Classic White Tights for Adults and Children
Cute White Tights for Toddlers and Adults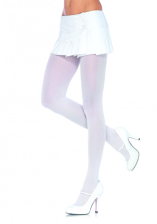 White tights are a quintessential wardrobe item. White tights can create a dramatic contrast with a little black dress or be worn for a fun, innocent look. Play up pastel colors and cover any imperfections on your legs, making them look lean and flawless with a pair of opaque or sheer white tights!
Young girls and toddlers look adorable in a pair of white tights. Paired with a cute holiday dress to keep your daughter's legs warm during winter, white tights are a popular children's item! We only sell high quality children's tights, from top brands like Peavey. Our tights are soft, comfortable and super stretchy. We have white children's tights available in opaque matte and opaque white with extra shine. Hot Legs USA provides the best, most affordable girl's tights.
The options are endless when it comes to white tights! We offer solid, plain white tights or pretty patterned white tights. Footless or footed, full length or thigh-highs, you're sure to find a pair which complements your fashion style. Vogue magazine recently noted pairing sheer white tights with some cream colored boots are a winter hit! White tights are also perfect for costume parties, letting you complete an Alice in Wonderland costume perfectly! The hit TV show Gossip Girl made white tights famous and the common wardrobe accessory they've become for the preppy, Upper East Side crowd.
Hot Legs USA offers the widest selection of high quality white tights for children and adults. Made with durable, reinforced stitching and run-resistant material, our tights will last through many seasons of wear. Show off your best legs with dainty, elegant white tights available online from Hot Legs USA.
White Costume Tights and Pantyhose for Cosplay and Halloween
Check out our full list of costume guides for Halloween and Cosplay ideas.
View all available tight styles to find a pair to complement your next outfit.

You Found the Ornament!
Enter HolidaySale2014 at Checkout to Receive 17% OFF Your Entire Order!