Orange Pantyhose and Tights
Eye Catching Orange Tights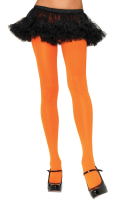 Neon and bright colors have made a comeback in the fashion world, and they're not going anywhere anytime soon. Our orange tights are sure to catch eyes and turn heads whenever you step into public. Not only will the color draw attention, but your legs will look toned and defined. Our tights offer light, comfortable support, perfect for all day wear, you'll look and feel your best. These bright colored tights are perfect for Halloween, school spirit day or adding a fun splash of color to your outfit.
Don't worry about the durability or strength of your tights; with our reliable fabric your tights will stay up, hold their shape and stay wrinkle free. Walk around in style and confidence! Whether you need our orange tights for a costume or to take a bold step in the fashion world, Hot Legs USA has the prefect selection of colored tights.
Orange Costume Tights and Pantyhose for Cosplay and Halloween
Check out our full list of costume guides for Halloween and Cosplay ideas.
Shop all our colored tights from Hot Legs USA and buy a pair of tights which will keep up with your lifestyle.

You Found the Ornament!
Enter HolidaySale2014 at Checkout to Receive 17% OFF Your Entire Order!