Poison Ivy Costume Tutorial
Monday, September 28, 2015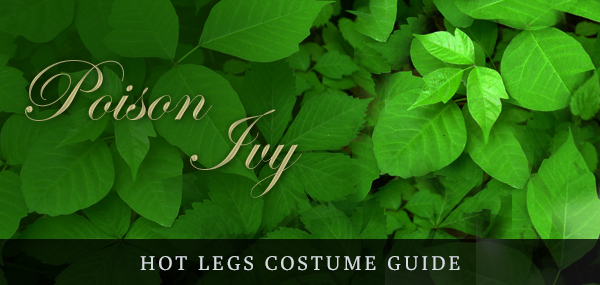 How to Make a Poison Ivy Outfit
1) Hair.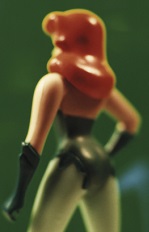 Unless you have natural red hair, you're going to need either a wig or some dye. One of the most important parts of the Poison Ivy look is the bits of plant scattered about her body and clothing, like it's growing on her. Grab some vines or leaves from outside to incorporate into your costume or buy some fake plants for a longer lasting effect. Then, clip them into your hair and onto your clothes. WARNING: Make sure the plants you gather aren't actual poison ivy - Leaves of three; let it be!
2) Torso.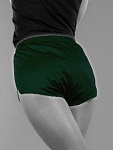 You'll need a green corset teddy and plenty of foliage for this Poison Ivy costume. Once you have the green corset teddy, pin, weave, glue, or clip your foliage on in whatever pattern you want. Poison Ivy had some flare in her costume, and you should too!
Not comfortable exposing so much skin? Try a nude bodysuit under your corset or add a pair of modesty shorts. Adding more flowers and vines will cover everything else.
3) Arms.
Get a pair of long opera gloves, preferably some shade of green. The shade of your gloves does not have to match the shade of your corset teddy. Apply foliage liberally to the gloves, in the same style of your corset teddy.
4) Legwear.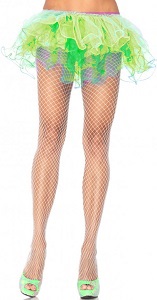 Order a pair of Poison Ivy green costume tights for your Poison Ivy costume this Halloween. For the tights, you can choose to either add the leaves / vines or leave them off, since you don't want to be making holes in nylons or doing anything to jeopardize their stretchiness.
For an extra natural look, use fishnet pantyhose over your nylons to better weave in vines around your legs.
5) Footwear.
A pair of fashionable boots should be a good conclusion to this DIY Poison Ivy costume. If you've got an old pair lying around somewhere, grab them, and cover them in glitter and sequins.
6) Makeup.
Arm yourself with green shadow, liner and glitter. Supplement with black and red and watch this video:
Poison Ivy Halloween Costume Tights
Be the best this Halloween, with a homemade Poison Ivy outfit. What would be a better super power than being able to control nature? Correct; there isn't one. This Poison Ivy guide is perfect for a last minute, DIY costume. If you have a group this Halloween, set up your own Rogue's Gallery to face off against Batman and the Boy Wonder. Try to get as many villains together as possible to take over Gotham this Halloween, including Harley Quinn. With this easy to follow guide, you'll be ready to debut your Poison Ivy outfit in time for the premier of the Suicide Squad movie.

You Found the Ornament!
Enter HolidaySale2014 at Checkout to Receive 17% OFF Your Entire Order!