Green Pantyhose and Tights
Green Tights to Top off Your Style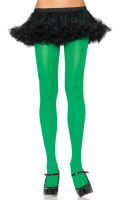 Make sure to order a pair of our green tights to take your outfit or wardrobe to the next level. These tights paired with the right outfit will turn heads! Whether you're getting festive for St. Patrick's Day, headed to a comic-con convention, or want to top off your outfit with a cute flair, green tights are certain to place all eyes on you! Made with flexible, soft and strong material, these tights won't slip down or get saggy while you're wearing them. With their sewn in comfort-waistband, our tights will hold strong and don't need to be constantly pulled up like drugstore brand tights and pantyhose. You'll be able to focus on your day and not have to worry about the appearance and fit of your tights.
Our tights will create a sleek and elegant look no matter what your objective for the day may be. Look good and feel great in sexy, comfortable tights available online from Hot Legs USA.
Green Costume Tights and Pantyhose for Cosplay and Halloween
Check out our full list of costume guides for Halloween and Cosplay ideas.
Browse all our fashion tights to create the perfect look for work or a night out on the town.

You Found the Ornament!
Enter HolidaySale2014 at Checkout to Receive 17% OFF Your Entire Order!