Purple Pantyhose and Tights
Purple Tights Create a Fashion Statement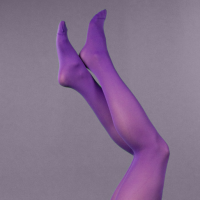 If you're looking to make a new fashion statement this year, look no further than our purple tights. With their bright, bold color, these can be paired with numerous outfits to show off your great fashion sense. Created from the most durable and reliable materials, these purple tights will last through many seasons without losing their vivid color or compromising their fit.
Purple tights paired with a black skirt are a great attention grabbing match. The neutral tone of black with the added pop of purple color complement each other and you may find yourself telling people where you got your tights. Pair with a long coat and some warm boots to add a touch of color to an otherwise dark and moody winter outfit. Purple women's hosiery can also be worn to fun, themed costume parties! Pull off the perfect 80s costume, then incorporate the tights into your everyday outfits. Comfortable and versatile, purple tights are the perfect accent.
Purple Costume Tights and Pantyhose for Cosplay and Halloween
Check out our full list of costume guides for Halloween and Cosplay ideas.
Browse all the colored tights from Hot Legs USA to advance your wardrobe to the next level in style.

You Found the Ornament!
Enter HolidaySale2014 at Checkout to Receive 17% OFF Your Entire Order!