Bright and Sunny Yellow Fashion Tights
Create Sunshine with Yellow Tights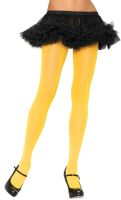 Bright, noticeable, and fun! A pair of our yellow tights reflects your enjoyable personality. These colored tights are bright, attention grabbing and durable no matter what you need to get done. They are made from reinforced, durable material, which are comfortable for all day wear without causing any problems. These are eye catching to say the least, let people know when you walk in and out of the room without having to say anything. Pair them with a little black dress for a bright and colorful contrast, or wear them under shorts for a unique party look!
These tights won't run or start to wrinkle on you after a couple hours into the day. With the comfort waistband and compression like material, they will hold strong all day and night. Show off your best legs for many seasons ahead with tights from Hot Legs USA.
Yellow Costume Tights and Pantyhose for Cosplay and Halloween
Check out our full list of costume guides for Halloween and Cosplay ideas.
Browse our women's fashion tights selection today and guarantee to catch people's eyes with your fashion.

You Found the Ornament!
Enter HolidaySale2014 at Checkout to Receive 17% OFF Your Entire Order!