Open Toe Pantyhose for the Active Lifestyle
Quick View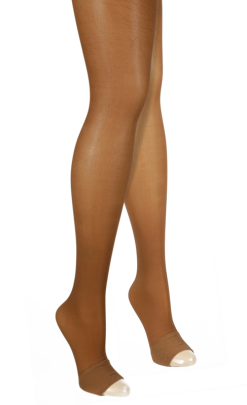 Look Attractive and Feel Comfortable, Day In and Day Out
Traditional pantyhose, with enclosed foot, is uncomfortable during long periods of time. You need a suitable alternative for all-day wear.
Hot Legs USA is perfect for active jobs and careers, keeping you and your feet comfortable all day long. Whether you wear our open toe pantyhose with socks, boots, or other tight-fitting shoes, our well-crafted product stays with you.
Professional Quality Pantyhose
Certain jobs require continuous movement; on your feet 24/7. Pull on our open toe pantyhose for maximum comfort and support. Your legs will continue to look and feel great.
Our pantyhose is suitable for the following careers:
Dancers
Cheerleaders
Waitresses
Ice skaters
Gymnasts
Go the extra mile in Hot Legs' open toe pantyhose; the perfect alternative to traditional tights.
Hosiery Variety from Hot Legs USA
Whether you're looking for sexy lingerie, work-appropriate tights, or Hooters'-style clothing, Hot Legs USA provides all of the above. Don't settle for cheaply-made pantyhose that falls apart after a few wears. We craft our hosiery from top-grade materials, making you look great and feel comfortable all day long.
Also shop our footless pantyhose and tights for men and women

You Found the Ornament!
Enter HolidaySale2014 at Checkout to Receive 17% OFF Your Entire Order!