Princess Leia Costume How-To Guide
Sunday, September 27, 2015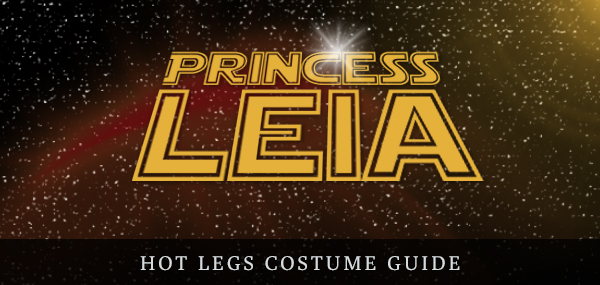 Princess Leia Halloween Tights
Be sexy in a galaxy far, far away
Princess Leia is one of the most recognizable women in cinematic history. A leader of the Rebel Alliance and princess of Alderaan, Leia's style has inspired a generation of fans. For a flirty and fun summer cosplay, try Princess Leia's famous Tatooine slave outfit on for size.
How to Make a Princess Leia Outfit
Hair. The long hair of our favorite rebel princess is plaited into one super long braid with a bun on top. Try a long wig or some extensions to get all that length or to fake the bun.
A burgundy skirt and bikini. This flowing skirt needs to be long and sheer. While you can order premade versions of the skirt online, a DIY solution is to find some cheap drapes or curtains and cut them to create the veil. Secure around your waist with string bikini bottom to match your gray or tan bikini top.
Legs. Worried about your exposed legs in Tatooine's twin suns? A pair of Princes Leia costume tights from Hot Legs USA will hide any imperfections, help your legs looked toned, and keep your legs warm in cool conditions. The Peavey Premium Quality Pantyhose in Suntan will give you the sun-kissed look of someone who's spent a few days on a pleasure barge. Get some comfy boots in gray and your legs are finished!
Body sleeve. Not comfortable baring it all? A nude body suit under your bikini and skirt will help give your skin a complete, toned appearance while keeping you from getting too cold or exposed.
Details. The famous gold bikini has gold lining covering all the support wires and string ties. Finding a gold armband should be easy and adding gold colored piping around the belt and bikini is a fun activity for you and your own Han Solo.
Working on one of Leia's outfits from the other movies? For help with completing alternate Leia costumes, get started with the options below:
A New Hope – Leia Tights
Woman in white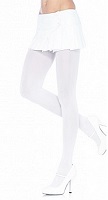 The white dress Leia wears when captured on the Death Star is as iconic as her hair buns. What few fans realize is her entire outfit is white, including her tights and boots. Hot Legs USA white nylon tights are soft, durable, and moisture-wicking for comfortable wear from Halloween to the convention floor.
Empire Strikes Back – Hoth Leia
Let it snow
Leia once again dons an all-white ensemble in Episode V, although this time it's justified as catalogue on the snowy planet of Hoth. To stay warm on the snowy planet, add some support pantyhose underneath your white pants.
Return of the Jedi - Endor Leia
Get back to nature
Want a more action oriented costume? Leia's Rebel fatigues from her Endor mission are easy to replicate. Faded blue jeans or baggy blue sweatpants with a yellow stripe combined with a camouflage poncho are all you need for this simple costume.
Have a group? Have some friends dress as stormtroopers and escort you around! Let your son or daughter be an Ewok. Don't buy your costume in Alderaan places. Use Hot Legs USA for your costume tights and pantyhose just in time for the release of Star Wars Episode VII: The Force Awakens.

You Found the Ornament!
Enter HolidaySale2014 at Checkout to Receive 17% OFF Your Entire Order!