Blue Pantyhose and Tights
Bold Blue Tights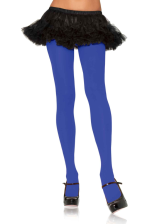 Blue tights create the perfect bold look whether it's for work, exercise or completing your weekend outfit. Wearing a pair of these tights with a black top will turn heads and grab attention. No need to break the bank just to pull off a sophisticated style! Hot Legs USA offers these fun, flirty tights online at affordable prices.
Tights from Hot Legs USA are not just soft and sexy looking, they are also extremely durable and reliable. They won't start to run down or sag after being worn for a few hours. The sewn in waist band will comfortably hold up the tights all day without causing you any discomfort. Whether you're looking for a bold new style or need these tights for an upcoming holiday, like the 4th of July, Hot Legs USA has you covered. Order your pair to take your wardrobe to the next level.
Blue Costume Tights for Halloween and Cosplay
Check out our full list of costume guides for Halloween and Cosplay ideas.
View all women's fashion tights now to order the colors and shades you need to complete any of your outfits.

You Found the Ornament!
Enter HolidaySale2014 at Checkout to Receive 17% OFF Your Entire Order!