Premium Nylons for Professional Women
Professional Hosiery for Professional Women
Business women everywhere are choosing Hot Legs USA for their professional nylons! From Tamara pantyhose to Jockey pantyhose, our selection of professional pantyhose and premium tights will suit your every business need! No matter how professional your job is, the Hot Legs USA pantyhose selection has something for everyone, in a variety of sizes and colors! You'll find the perfect professional pantyhose solution for you at Hot Legs USA.
For business women from California to New York, no matter what you need, Hot Legs USA has premium quality legwear for what you need! Whether you wear your professional nylons with business suits or under a pantsuit to stay warm, Hot Legs USA has the best collection of professional pantyhose to choose from. These long-wearing brand hosiery can also make the perfect transition from the office to a night out. Stop spending money on cheap imitation pantyhose that rips within two days. Invest in affordable, high quality professional quality nylons and see the difference Hot Legs USA products can make to your wardrobe!
Business doesn't have to be boring when you add Hot Legs USA into the mix. We have professional pantyhose that are sure to add to any outfit. Whether you're wearing an A-line skirt or a power suit, having professional hosiery will help you dress to impress.
Dressing professionally is hard for women. You want to look your best without seeming unprofessional. The line between fine and unprofessional often seems arbitrary, so let Hot Legs USA be your business style guide.
Go from Casual to Corporate with Business Professional Pantyhose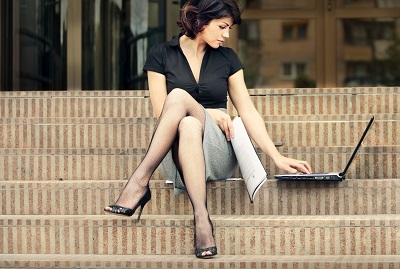 Have a sundress that you're worried won't look professional enough? Pair it with some thick tights to remind everyone who's the boss. With a large variety of colors, you can match any pair of tights with any skirts, blouses, or dresses you may have.
Be daring and try a pair of fishnets under your slacks. Or add just a hint of sexiness to a simple skirt with a backseam pair of pantyhose. A little lace is also the perfect way to add elegance to an otherwise simple work ensemble without breaking the bank.
Take Control of Your Work Attire with a Professional Look
A pair of control top pantyhose will help you slip into that little black business dress with ease while a Cuban heel will help your legs stand out from your stilettos. Hide varicose veins or other unsightly imperfections with opaque tights. You don't have to worry about cellulite or razor burn showing with reinforced hosiery.
Emphasize your already great legs with sheer finish tights. Or try a pair of suntan pantyhose during those winter months to add a healthy glow to your skin. Whatever you need to complete your looks, Hot Legs USA has it. We have colors and style that work for all skin tones and body types.
Do you want to look your best at your workplace and feel confident? Our pantyhose, tights, and leggings will help you do just that. Remember, business professional doesn't mean boring anymore.
For days when you're not at the office, look into our select offerings of Patterned and Lace Tights! They're sweet and charming!

You Found the Ornament!
Enter HolidaySale2014 at Checkout to Receive 17% OFF Your Entire Order!