9 Best Pantyhose for Varicose Veins
9 Best Pantyhose for Leg Veins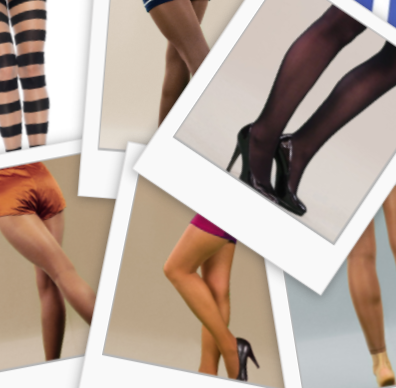 We must sadly dispel the rumor. Pantyhose can't prevent varicose veins. However, stockings and pantyhose can help hide bulging varicose veins and ease discomfort from bad blood flow to leg veins. Whether you want slimming stockings, a sun-tan color, or stylish designs our experts can help. These 9 compression pantyhose will ease your symptoms and make your legs look stunning:
Peavy Opaque Microfiber Tights (40 DN) - A sheer to waist style made with the strongest microfiber. These pantyhose will match your elegant outfit and make your legs seem smooth and soft. The opaque coloring can hide your varicose veins too!
Tamara Premium Quality Pantyhose (20 DN) - Designed for the showgirls of Las Vegas, these Tamara pantyhose are created with the best quality materials and made to last. Choose your color, whether you are looking for the original Suntan style or a darker color to match your outfit.
Footless High Gloss Tights (40DN) - On your feet all day long? We know keeping your feet uncovered can make the world of a difference and there are plenty of professionals who do. The high gloss design can give an airbrushed look to your legs.
Peavey Blue Label Pantyhose (20DN) - These pantyhose will provide flexibility to those in active environments. The Blue Label design is a great item for those who don't want a cotton gusset(crotch piece) since the inseam is all sheer. A great combo with a mini skirt or short-shorts.
Peavey Opaque Microfiber Tights for Men (40 DN) - Looking for mantyhose? A comfortable, warm compression can add a little spice to your wardrobe. We offer sizes and styles to match your environment whether it be around the house or to make scuba diving a smooth operation.
Danielle Casino Wear Tights (40 DN) - Perfect for high-class scenarios, these opaque stockings will make your legs look stunning while concealing any leg veins. These tights also provide some compression to add comfort and also increase blood flow.
Leg Avenue Royal Blue Opaque Nylon Tights - Opaque nylon tights will stand out in the crowd. These royal blue pantyhose can cover blemishes without anyone ever knowing they were there.
Leg Avenue Sheer and Opaque Striped Pantyhose - We have provided a lot of typical colors so far, but a pantyhose we know some of you are looking for is a striped style. If you are dressing up for a costume party or looking to make a statement with your outfit, these are a perfect fit.

Leg Avenue Nude Opaque Nylon Tights

- We know nude is one of the most popular options for hosiery. They provide just enough coverage to hide any small imperfections and still amplify your leg's natural beauty.

You Found the Ornament!
Enter HolidaySale2014 at Checkout to Receive 17% OFF Your Entire Order!