Plus Size Costume Tights
Halloween Cosplay Hosiery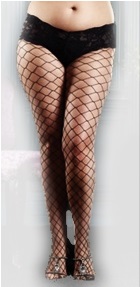 Hot Legs USA offers plus size costume pantyhose for even more variety this Halloween. Don't let limited options at costume stores stop you from having a great outfit. Plus size, queen size, and one size fits most costume options are yours with Hot Legs USA!
Plus size costume hosiery includes garters for flappers and fishnets for mermaids. You can be anything from a supervillain to a superhero with a variety of tights. Need some ideas? Hot Legs USA has DIY costume tutorials for finding the right Halloween outfit!
Sometimes costume pantyhose can even be practical. Conceal varicose veins or keep warm with costume tights. Jockey pantyhose offer slimming and comfortable control tops to smooth out potential problem areas exposed by your costume. Leg Avenue garter sets are made to stay up even through a night of costume party dancing.

You Found the Ornament!
Enter HolidaySale2014 at Checkout to Receive 17% OFF Your Entire Order!