Elle Driver Costume Guide
Friday, October 2, 2015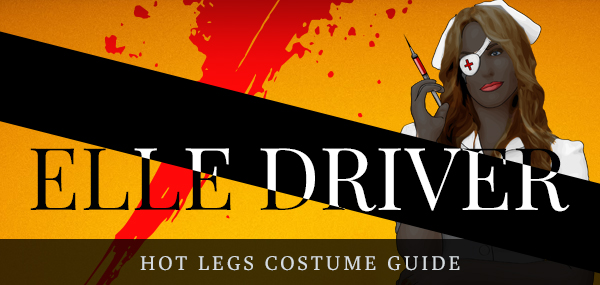 Elle Driver Nurse's Uniform Costume Tights and How-To Cosplay
1. Hair and Cap –
Assassin Elle Driver aka California Mountain Snake wears an infamous nurse's uniform when she attempts to put down the comatose Beatrix Kiddo. Her long blonde hair stands out, as does her ominous nurse's cap.
Watch how to make a nurse's cap for free.
Change the colors shown to a stark white cardstock paper. Color in red crosses.
Shop for a long, blonde wig online.
2. Eyepatch and Makeup –
Watch how to make an eye patch and add details from the movie.
Make sure the paper and felt you use is white. You can find elastic, paper and felt at any arts and craft supply store.
Her makeup is simple. Do up your face however you usually do, then apply a rose-y lipstick and smudge a light smoke-y eye.
Practice your sinister whistle.
3. Apparel –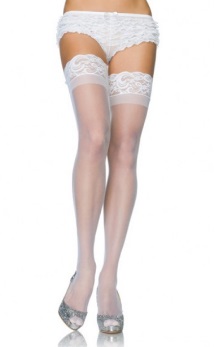 A simple nurse's button-up dress can be acquired online or in a costume shop. Plain white is the ticket.
The important part of this outfit are a pair of dangerously sexy white lacy thigh-highs. Hot Legs USA has the perfect pair, with an elasticized top to help them stay put and made of durable fabric that are made to last. These particular stockings require no garter belt, but you can always wear one for added sex appeal under your dress if you like. This garter belt comes with a matching thong and despite being shown in black, also comes in matching white or contrasting red… Your choice.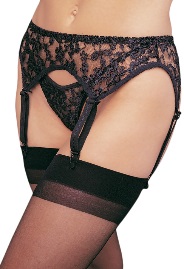 This costume is great because of its simplicity. If it's cold weather outside, grab a white trench jacket to cover up with like Elle wears on her way in to the hospital.
4. Footwear –
The juxtaposition of Elle Driver's sensible orthopedic shoes against her true intentions is another delicious tongue-in-cheek detail of the movie.
Find a pair of sensible nurse's shoes in your size on Ebay.
5. Details –
Find a couple of props to add to the authenticity of the costume.
Wield a syringe without a needle filled with red liquid. These should be pretty easy to find and are often used to feed baby animals.
A pair of doctor's gloves in white or blue will add to the effect as well. If you have a pair of cloth white gloves, those will look great as well.
Quentin Tarantino is known for his strong female roles. The character of Elle Driver stands out because unlike many evil villains, she has very little to no redeeming humanity. Evoke your inner bad guy with this wicked costume.

You Found the Ornament!
Enter HolidaySale2014 at Checkout to Receive 17% OFF Your Entire Order!