Leg Avenue Kelly Green Opaque Nylon Tights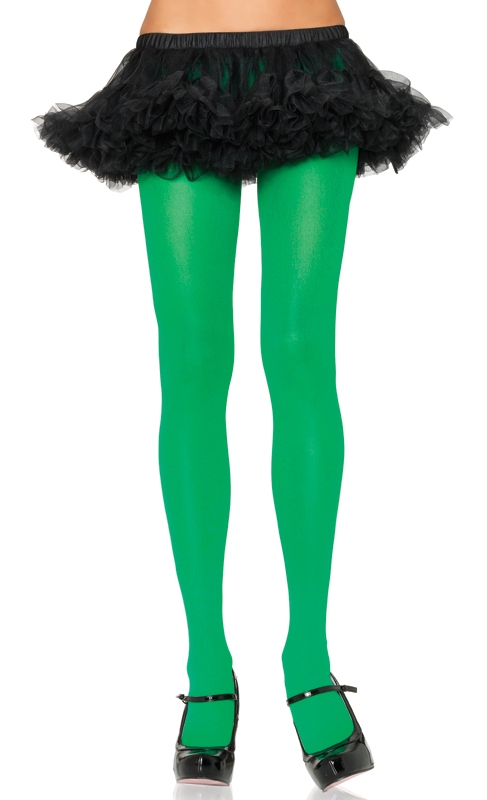 Hover To Zoom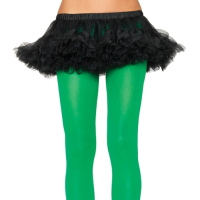 Retail Price:
$3.99
Select Quantity:

Product Features
| | |
| --- | --- |
| Shop Other Products In This Color: | |
These Kelly green opaque tights from Leg Avenue are definitely a wardrobe statement piece! But you may be asking yourself…"What goes with bright green?" Well, we'll tell you! For starters, they make a great addition to costumes including Vanellope von Schweetz, the Incredible Hulk, Robin and Poison Ivy!
With this shade of green, dark colors look best. Black really makes these tights pop, while colors like maroon, navy and brown tone it down. We won't lie, wearing these green opaque tights for everyday fashion takes special style skills, but green tights are great for a lot of other occasions too, besides just wearing it for street fashion.
Kelly green opaque tights are perfect as St. Patrick's Day tights or festive Christmas tights! They also come in handy as Halloween hosiery if you're dressing up as Poison Ivy, a Ninja Turtle, an Elf or Gnome, a Flower, Peter Pan, an M&M, a Crayon or a bushel of green grapes. These Kelly green opaque tights are all about fun, no matter how or where you wear them!
These opaque green tights are also awesome for team spirit style! Are you a Celtics fan? Packers fan? Wear these green tights under some flirty short shorts for sporty, sexy style!
But the best is yet to come…these green tights are 100% nylon, which means they're rip-resistant, soft, and they hold their shape better than other materials! Plus, they keep your legs that much warmer when the cooler weather hits! And…drumroll please….they're only $4!!!
When it comes to these green tights, we usually get bulk orders from Irish pubs and sports bars, Packer bars and Irish dance teams.
Vanellope von Schweetz Costume Tights
You'll look super sweet as this glitch. With an easy to follow guide, use Kelly green pantyhose to become everyone's favorite Sugar Rush racer just in time for Halloween.
Robin Cosplay
Want to attend the premiere of Batman v. Superman: Dawn of Justice in style? Create a Robin costume with Kelly green tights. Follow the Hot Legs USA guide to finish the costume.
Poison Ivy Costume Tights
Poison Ivy is able to kill people with a single kiss, you'll be killing it with a single look. Create the ultimate DIY cosplay Poison Ivy costume.
Find more DIY costume from Hot Legs USA for your Halloween tights and pantyhose.
Remember, Hot Legs USA offers great discounts on bulk orders of tights, pantyhose, women's athletic apparel and other products on our site! Just email us at hosiery@hotlegsusa.com and let us know how we can help!

You Found the Ornament!
Enter HolidaySale2014 at Checkout to Receive 17% OFF Your Entire Order!