Vanellope von Schweetz Costume Tights How-To Guide
Tuesday, September 29, 2015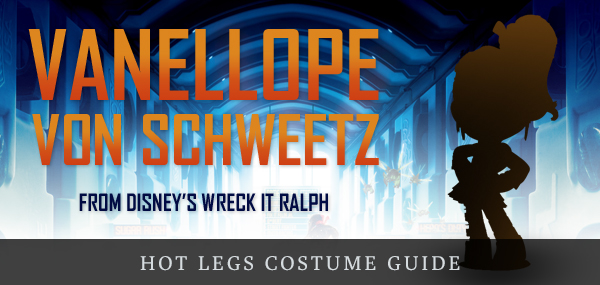 Vanellope von Schweetz Halloween Costume Tights
How to Make a Vanellope von Schweetz Outfit
1. Hair.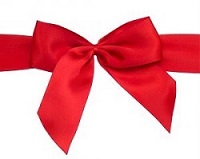 If you have dark hair, all you need is a ponytail to start off this sugary look. If you have short or light hair, a wig will cover your needs. Next, add candy to your hair with colorful clips and barrettes. Pick your favorites for a sweet treat later. Add a licorice bow (simple red ribbon) and you're done.
2. Outfit.
Green sweatshirt. Feel free to grab any light green sweatshirt from your closet or buy one for this easy cosplay. Replicate the pink stitching and hood ties with pink shoelaces and you're more than halfway done with your costume. Start with an inexpensive sweatshirt if you don't already have one.
Brown skirt. This skirt is supposed to be made of Reese's Peanut Butter Cup wrappers. A pleated skirt provides a sugar-free substitute. Hers is made of two wrappers overlapping, so add a second skirt underneath the first for the same effect. Check out some readily available options.
3.Legware.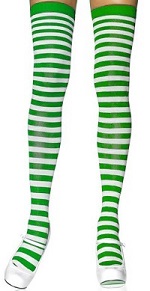 Vanellope's tights invoke a candy-cane appearance to match the rest of her sugary ensemble. Use Vanellope Costume Tights (in Kelly Green stripes) and white or try decorating Leg Avenue Kelly Green Opaque Nylon Tights with custom stripes in white and purple. Both are colorful and comfortable, perfect for showing off your legs.
4. Footwear.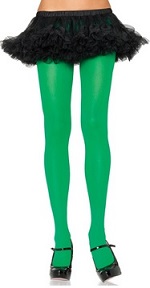 Black shoes. The fastest racer needs the fastest footwear. Grab a pair of comfortable sneakers in black to stay moving even when the sugar rush wears down.
Go with a group!
Have a group of friends? Everyone can get colored costume tights to match the other Sugar Rush racers for a unique group costume. Just don't go Turbo!
Be first to the finish line as everyone's favorite Sugar Rush racer! What better way to celebrate Halloween than as a Sugar Rush racer? Don't settle for just any sugary competitor, pick the best. This Vanellope von Schweetz guide is perfect for a last minute, DIY costume. Remember – you are a winner and you are adorable.
Order colored tights for your cosplay outfit today, or check out more cosplay ideas.

You Found the Ornament!
Enter HolidaySale2014 at Checkout to Receive 17% OFF Your Entire Order!