Pantyhose & Tights for Cosplay
Pantyhose for Cosplay
Hosiery and Tights for Costumes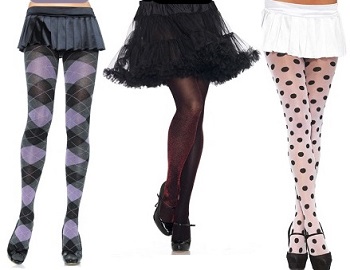 Whether you're a cosplay veteran or you're getting ready for your first convention, these pantyhose and tights from Hot Legs USA are ideal for a variety of costumes. We even have a helpful costume guide for each character. Hot Legs USA pantyhose and tights are perfect for cosplay newbies looking for affordable, easy DIY looks. Our pantyhose and tights can be used to cosplay characters from Marvel, DC, Disney, Game of Thrones and more. With so many options to choose from you're only limited by your imagination.
Our high quality hosiery is one size fits most; meaning just about anyone can cosplay their favorite characters – yes, boys, you too. We even carry pantyhose for men looking to cosplay their favorite heroes or make their legs look smoother than silk.
Creative Costume Solutions
Hot Legs USA has more than superhero stockings and Halloween hosiery. We have a huge selection of over the knee stockings, fishnets, leggings, socks, and even full bodysuits to complete your costume. Whether you're looking to cosplay your favorite character or bring new life to your wardrobe, you can find the perfect pantyhose and tights at Hot Legs USA.
Men's Costume Tights

Men can get in on costume fun like never before with mantyhose! Costume pantyhose and tights for men allow you to portray your favorite characters like never before. Rock out as Dr. Frank N. Furter with fishnets or turn into the Incredible Hulk with green tights. Men's sizes mean you have the chance to look great and feel comfortable this Halloween. Mantyhose also give your legs extra protection against the cold and weather while stylishly shaping your legs as well. There's no way to go wrong with men's costume tights and pantyhose.

Women's Costume Pantyhose

Shopping for the perfect Halloween costume? Try some new women's costume tights and pantyhose on for size. Turn into a princess, a superhero, a villain, or even a mermaid while wearing comfortable, formfitting hosiery. Don't let varicose veins and razor burn scare you this Halloween – cover up with stylish pantyhose! Not only will you look great, your legs will be protected from spooky Halloween winds and frightful chills. Even better, the dependable costume tights from Hot Legs USA can be worn without a costume to spice up a regular outfit!

Plus Size Costume Hosiery

Tired of being unable to find a fun costume in the right size? Hot Legs USA has costume tights and pantyhose in plus sizes so everyone can look their best this Halloween. From a beautiful Greek goddess to a supervillain, you'll find the perfect fit with plus size variety. Costume hosiery is reliable and supportive, able to hide imperfections while giving your legs a great shape. Enjoy Halloween with a great costume and a great fit.

Superhero and Supervillain Costume Tights

Superheroes are better than ever, unless you ask a villain. Colorful costume tights allow you to transform into comic book characters with ease. Whether you want to assemble the Avengers or organize a Justice League, you can at least look great doing it. Create a do-it-yourself Halloween costume based on your favorite superheroes today. Be the patriotic Captain America, the Dark Knight, an Incredible Hulk or Boy Wonder with fashionable hosiery. With superhero and villain costume tights, your legs will be shaped and gain definition, helping you better resemble the caped crusaders we know and love.

You Found the Ornament!
Enter HolidaySale2014 at Checkout to Receive 17% OFF Your Entire Order!