Men's Halloween Costume with Tights Guide
Tuesday, January 27, 2015
Real Men Wear Tights
There are only a few certainties in life: gravity always wins, the Sun is bright, and roses are pretty. Oh, and there's one more above them all: real men wear tights. It's as true as it is inarguable.
Keep this in mind when Halloween 2015 rolls around. October 31st is a Saturday this year, meaning there's going to be an entire weekend of costume parties. You had better be prepared with the perfect men's Halloween costume. In other words, you either have a costume with tights or you don't bother dressing up.
Don't worry, though. Hot Legs USA specializes in giving you the best ideas for funny, sexy, unique and DIY Halloween costumes ideas for dudes using stockings. We even have a guide for men's costumes using short shorts, should that strike your fancy.
Male DIY Costume Ideas with Pantyhose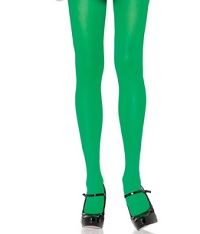 Not every man knows how to properly wear tights with a Halloween costume. We understand, so we've provided a few great ideas for you. A dude could simply throw on some colored opaque nylon tights and be more than covered – literally and figuratively. If, however, you wanted to have a contest-winning costume, try one of these.
Peter Pan Men's Costume
Feel like being a man child? Go as Peter Pan. It's a simple and cheap costume for guys. Simple take a pair of Kelly green opaque nylon tights, a long green tunic, and a green pointy cap with a red feather. Throw in a pair of tan or khaki colored short shorts to complete the ensemble (or if you need pockets).
Guys' Cupid Costume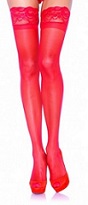 Be the embodiment of love this Halloween with a men's cupid costume. It's easy and funny – just take a long white tunic, or white shorts and sash, find a bow-and-arrow set and you're ready. If you'd like to turn up the hotness factor, consider adding red lycra sheer thigh highs. Your legs will pop in ways you didn't think possible.
Cheerleader Halloween Costume for Guys
Cheer everyone on during the night's festivities by dressing as a cheerleader. You could simply put together a male cheerleader outfit and be done, but that wouldn't be humorous. A better option is to wear a girl's cheerleader uniform and show off that sexy midsection of yours – whether it's a six-pack or a half barrel. Add a pair of opaque nylon tights from Peavey to give your legs some added sexiness.
DIY Superhero Costume Ideas for Men
Still not comfortable with wearing tights? Well guess what - all the best superheroes in history wear tights. Superman, Spider-Man, Captain America, Batman, you get the idea. So here are some ideas for DIY superhero Halloween costume ideas for men.
Captain America DIY Costume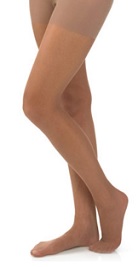 The most patriotic American in America's history is Captain America. 'Murka! Show your national pride by donning red, white and blue. You could buy a realistic costume, but that'd be expensive. Wearing a DIY Captain America costume is a cheaper (and more humorous) alternative. For a DIY costume, simply take a Captain America t-shirt, a mask, blue nylon tights and the shield. Grab some red shoes or boots if you really wanna get fancy.
View the full Captain America costume guide now!
DIY Hulk Costume
Make everyone green with envy by dressing as a DIY Hulk this Halloween. All you'll need is green body paint and ripped pants or shorts. You could either paint every part of your body that will be showing, or could just paint your upper torso and wear Kelly green opaque tights.
View more DIY costumes for men and women. Contact the DIY costume specialists at Hot Legs USA today for all your Halloween supplies.

You Found the Ornament!
Enter HolidaySale2014 at Checkout to Receive 17% OFF Your Entire Order!