Hot Legs USA is getting ready for HALLOWEEN!
Tuesday, July 24, 2012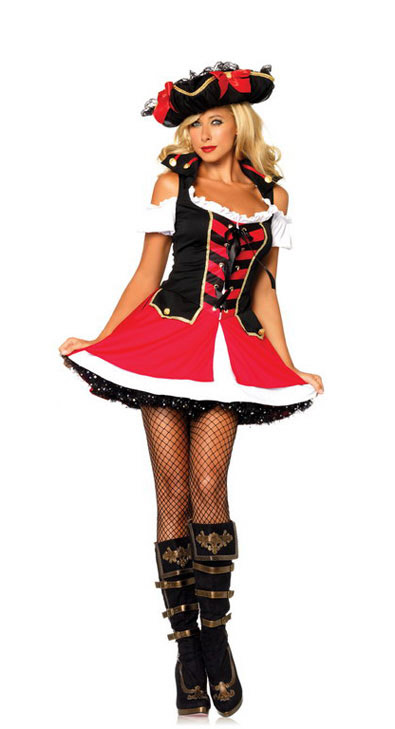 Are you getting excited for Halloween? We are! At Hot Legs USA, we're all geared up and prepared for Halloween with everything you need to make this holiday a great-looking one! We have your favorite premium pantyhose and hosiery as always. Our premium Halloween pantyhose hosiery lines features fun treats for you this year. This year we're featuring fancy costumes and accessories!
We employ a very simple festivity philosophy. Hot Legs USA believes you should get quality, ravishing Halloween Costumes, hosiery, and Halloween Costume accessories at a great price. All these elements combine to give you great products at great prices, and who doesn't like quality products at a discount?
This Halloween we're offering you all the bona fide hot hosiery we offer year-round (fishnets, thigh highs, patterned & lace tights, etc. Hot Legs USA is offering you Halloween hosiery sure to make a statement!
This Halloween Hot Legs USA has Spider Web Lace Pantyhose, making your Halloween costume sexy beyond belief! Another huge perk of Halloween pantyhose is staying comfortable in October weather. Stay toasty and look even hotter with Halloween Costume thigh highs! We ecstatically announce our Opaque Thigh High Stockings, excellent when paired with sexy Maid Halloween costumes, Miss Mafia, Chef, Judge, and Naughty Nun Halloween Costumes. Whatever you're looking for, these tantalizing thigh high pantyhose take your Halloween Costume to a whole new level.
We have striped Thigh High Stockings with a Red Heart, perfectly suited to our Miss Wonderland and Alice in Wonderland Hot Legs USA Hot Costumes! If you're looking for something extra flirty, add a pair of Sheer White Leg Avenue Lycra Sheer Stockings with woven red hearts, making your Halloween costume hotter than Halloween in July! Look into pirate girl Aye Aye Admiral and Pirate Beauty Halloween costumes for a touch of the exotic. Pair womens pirate Halloween costumes with a Pink Petticoat or Pink Petticoat! Slip into the sexy German Beer Girl Halloween costume for Halloween fun.
Hot Legs USA has great quality short shorts in many colors and sizes, so you can mix and match anything you want this Halloween. Combine a pair of Yellow Cobblestones Activewear Shorts with Yellow and Black striped Thigh Highs for an adorable bee costume! Try on our Orange Short Shorts, identical in every way to Hooters® Waitress shorts (all they're missing is the Hooters® logo)!
Couples costumes are a great way to have fun with the person you care most about on Halloween. We added a Halloween event for men too. Try out the Mad Hatter men's costume with Alice in Wonderland women's costumes, or the Garden Gnome men's costume with the German Beer Girl for a Nordic Couples Costume! We know you'll have a fantastic night with great Halloween costumes and Halloween accessories available here at Hot Legs USA!
Hot Legs USA has all your Halloween costume needs from pantyhose or tights to accessories and hair pieces shop online today!

You Found the Ornament!
Enter HolidaySale2014 at Checkout to Receive 17% OFF Your Entire Order!