Aye Aye Admiral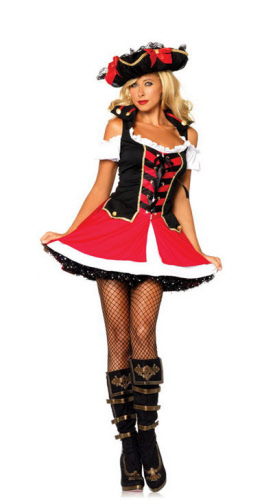 Hover To Zoom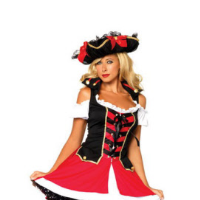 Retail Price:
Sale Price:
$30.00
$15.00
Select Quantity:

Product Features
Aye Aye Admiral women's pirate costume includes:
Black, red, & white corset-front pirate dress
Velvet waist coat
Stay-up collar
Gold ribbon trim
Gold button accents
Women's Swashbuckler Hat, Fishnet Stockings, Petticoat and Boots not included.
Women's Fishnet Stockings and Petticoat Sold Separately
Is a pirate's life the life for you? Take to the seas this Halloween in high style! Aye Aye Admiral women's pirate costume from Leg Avenue features a black, red, and white Pirate style corset-front dress with Velvet Waist Coat! The Velvet Waist Coat features a stay up collar, gold ribbon trim, and button accents. A pirate she be, slip into this womens pirate Halloween costume and sail the open seas this Halloween. This Leg Avenue Aye Aye Admiral womens pirate Halloween costume is 100% polyester, and she be 100% beauty, me matey! Shiver me timbers, this womens pirate Halloween costume is available at a low price right here at Hot Legs USA so you and your hearties can save your hard earned plunder. Aye Aye admiral womens pirate Halloween costume accessories, Black fishnet tights, petticoat, pirate boots, and womens Halloween pirate hat sold separately. Get all hands on deck, have a rowdy band of your girlfriends dress up as pirates too with the Pirate Beauty Halloween costume! As any wench worth her salt knows, you'll be needing big tankards of grog to party the night away. Get sneaky and accessorize with the Gold Beer Stein Purse, which looks just like a hearty mug of Pirate's grog!
Complete the look with a pair of quality pirate worthy black fishnet tights, a must have addition for any women's pirate costume this Halloween. And make sure to fluff out your skirt with a black or white Teardrop Lace Trimmed Petticoat! Spook out your Aye Aye Admiral womens pirate costume with Spider Web Lace Tights or Thigh Highs! If luck be a lady tonight, wear the Thigh High Stockings with Poker Suit Back Seam! Get this must have womens pirate Halloween costume here at Hot Legs USA for just a few dubloons, before they set sail!
Need another Halloween costume this October? Explore our full listing of hot Halloween costumes!

You Found the Ornament!
Enter HolidaySale2014 at Checkout to Receive 17% OFF Your Entire Order!