Joy Costume How-To Guide
Sunday, October 4, 2015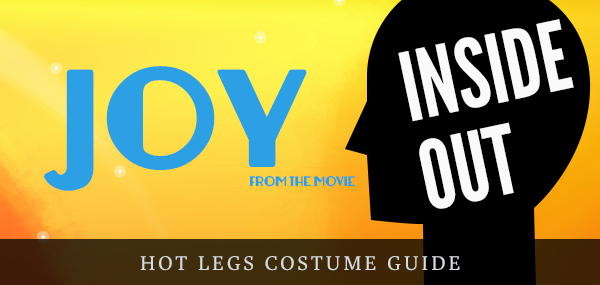 How to Make a Joy Outfit
1. Blue hair.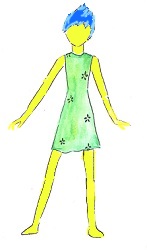 Joy's blue pixie cut is a little extreme for day-to-day life, so stick with a wig. EBay and Amazon have blue wigs you can style yourself while sites like Etsy have wigs already made to match the cut seen in the movie. Since Joy has sparkly hair, add some glitter to the wig.
Shop for blue wigs now to get your Joy costume ready!
2. Face.
Yellow face paint, especially with glitter, should be lightly applied to your face with special care taken around the eyes. If painting is too much, try finding a mask online.
Shop yellow body and face paint now.
3. Skin.
You have two choices here: paint or sleeves. Depending on when and where you plan on cosplaying, take the weather into account. A thin, yellow turtleneck top can save you a lot of time painting your arms. Remember, your skin needs to breathe so do not paint anything that won't show.
Buy a yellow turtleneck to cover your arms!
4. Dress.
Start with the easiest part of the costume – a pale green dress. Make sure the bottom is flowy so you can twirl. Joy's dress has little blue starbursts patterned over it, so get some fabric paint and stencils too. Add glitter paint to make it pop!
5. Footwear.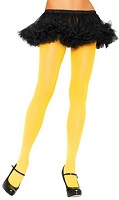 Show off some leg with Hot Legs USA tights. Our Leg Avenue Yellow Opaque Nylon Tights are soft, durable, and moisture-wicking to keep you dry when Sadness starts crying. These form-fitting tights will show off your shapely legs and will hide any imperfections you don't want seen. Since Joy is barefoot, some foot protection is recommended even though these tights are very durable.
Joy Halloween Costume Tights
Bring bright colors to this fun character from Disney-Pixar's new Inside Out!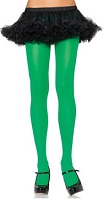 Be one of the happiest characters to ever grace the silver screen with a Joy cosplay! This high energy character, voiced by Amy Poehler, needs an outfit both fun and light to match her personality while addressing some challenges. With this handy Hot Legs USA guide, you'll see how easy it is to be Joyful!
Fans of all ages will love your cosplay and it gets better: Have a daughter? Dress her up as Riley for a mother-daughter bonding experience or get a group of friends to represent all the emotions (Leg Avenue Kelly Green Opaque Nylon Tights are perfect for Disgust's sense of style).
Your cosplay will be great for making happy memories. Order colored tights for your cosplay outfit today, or check out more cosplay ideas.

You Found the Ornament!
Enter HolidaySale2014 at Checkout to Receive 17% OFF Your Entire Order!