Honey Bee Costume Guide
Sunday, October 4, 2015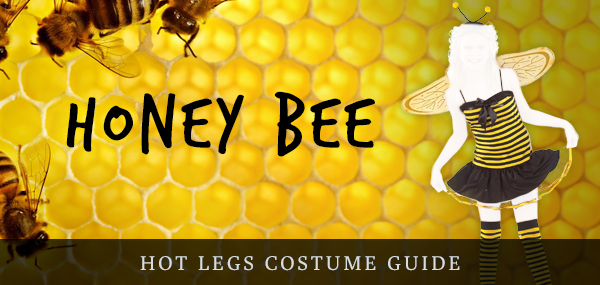 How To Dress like a Honey Bee
1. Hair -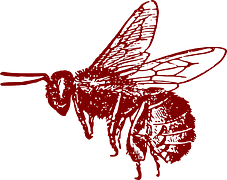 Style your hair however you like. A couple of buns on top of your head would be cute and you may choose to twist a couple of pipe cleaners into your 'do as antennae rather than the common use of a headband. If you do choose a headband, simply twist the black, brown and yellow pipe cleaners together in a festive tri-color spiral, and then wrap the ends around the band, spacing them appropriately into two antennae. Top with black pom-poms.
2. Makeup -
Your makeup can be simple, feminine or as stagey as you like. The makeup tutorial shown is not specifically meant to be honey bee makeup, but the makeup artist demonstrates a lot of brush and blending skills that the makeup novice can handle and the pop of turquoise blue is flattering in an otherwise predominantly black and yellow costume. Adapt the technique and make it your own.
3. Sunglasses –
A cute way to pull off the bug-eyed insect look is to wear your sunglasses at night (or by day) to give the impression of insect eyes.
4. Wings –
Insect, fairy and honey bee wings are easy to make at home. This tutorial shows you how to make fairy wings, which you can adapt for your bee costume. The wings in the above tutorial are perfect for a honey bee, made with white stockings and a light gold fabric paint that adds glint and shimmer in all the right places.
5. Apparel -
Your clothing is up for interpretation. You can wear a yellow leotard with black or gold shorts, a black leotard with black or gold shorts, or a brown or tan leotard. Herein lies the major difference between a bumble bee and a honey bee. Bumble bees are certainly black and yellow, whereas a honey bee is a more subtle combination of black, brown and gold. BEE as literal or as fanciful as you like, it's your costume! You can also feel free to add opposing stripes to your material or you can keep your clothing solid because we have the perfect striped tights.
6. Honey Bee Costume Tights -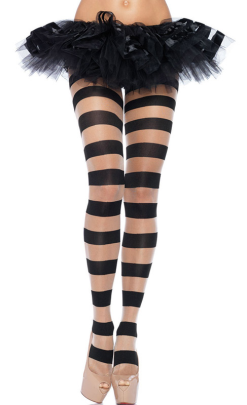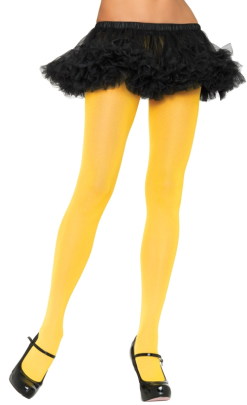 The perfect tights for a honeybee costume are a set of two, the perfect combination of color and control. Layer a pair of brightly-pigmented vibrant yellow tights underneath this pair of black-and-sheer thick-striped tights.
7. Kicks -
For your shoes, you can also wear whatever you like. For ultimate cute comfort and an athletic look that will be easy to dance in, pair shorts in this costume with a pair of hidden-heeled black-sueded sneakers. You could also wear flats, high heels, or bee-themed shoes.
8. Details -
Don't forget your stinger! No one will mess with you. You can make a simple cone out of black construction paper and affix it to your backside with a black elastic around your waist or a safety pin.
Furry pollen holders. Go the extra mile and add some yellow fur around your thighs so you can pollinate the party. You can attach it to the shorts or some up with a creative "leg warmer" option. Wear these leg warmers above your knees for authenticity. You can also make fuzzy epaulettes to pin to your shoulders as well.
Additional Costume Tips:
Another fun and somewhat gory idea is to transform this costume into a Zom-Bee. Add some pale makeup and less-than-precise red lipstick and go from cute to corpse easily!
Go as a couple with someone else dressed as a beekeeper, or be a swarm with your friends! A swarm of Zom-Bees sounds terrifying!
For more costume ideas or to browse everyday and costume basics, check out Hot Legs USA.

You Found the Ornament!
Enter HolidaySale2014 at Checkout to Receive 17% OFF Your Entire Order!