Peacock Costume Guide
Tuesday, October 6, 2015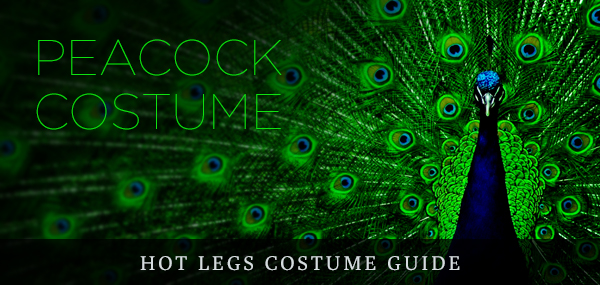 DIY Halloween Tutorial
1.Hair –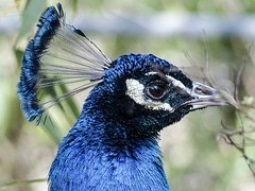 The best hairstyle for this look is a sleek bun, to mimic the smooth crown of the peacock's head. Gather your hair into a ponytail in the middle of the back of your head. Twist into a bun. Make sure every strand is nice and smooth. Done!
For a more wild look: use a temporary dye to tint your tresses blue.
2.Makeup –
Peacocks have an interesting eye, quite differently marked from many other birds. You can stick with an authentic look and use white, blue and black as your color palette. Many people choose to use the eye as another opportunity to splash in gold, green, and purple. You should feel free to adapt your makeup to your personal style and your outfit. Those seeking a professional look can play up the makeup you usually wear by adding a subtle smoky eye with dark blue and black, outlined in a shimmery white.
For a more wild look: check out this makeup tutorial.
3.Dress –
The best part of this costume is the base is any teal, turquoise or royal blue dress you already have or are interested in purchasing for the event. You can wear a more conservative dress with your costume pieces to work, and then change into something more liberating in the evening.
There are many peacock-colored new dresses for less than $50 for sale on Ebay.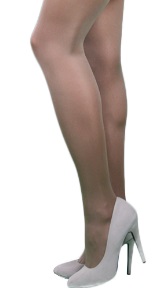 For a more wild look: those with motivation can craft brown and white feather epaulettes to attach to your shoulder. All you need is a bit of felt and enough feathers to cover the area you would like, a hot glue gun and a couple of hair clips to attach to your shirt. Work with the largest feathers first and then stack the smaller feathers on top, leaving the wispiest for last.
4.Tights –
For the most natural and authentic look, you need these Peavey Opaque Microfiber Tights in Skintone. Many people don't realize that a peacock's legs are a shade of white-nude, not black or blue as many seem to think.
You can feel free to use whatever color that suits you best, we have sheer black, royal blue, purple, green and yellow tights, but the Peavey microfiber nylons will give you mile-long legs when paired with a nude pair of heels or knee-high boots.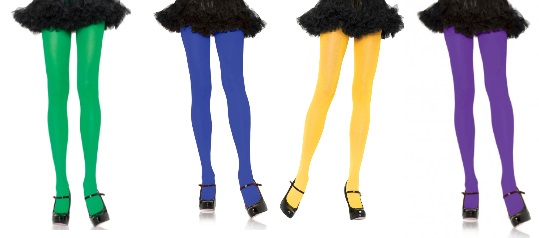 5.The Tail –
At last, here comes the showstopper. Find a belt that fits around your waist and some sturdy flat corrugated cardboard that has never been folded. The idea is you can take your tail-belt off when you are in the car or sitting in an office chair. Cut a fan-like shape that is sized so it will comfortably sit against the small of your back when the tail is in "showtime" position, or will rest over your bum when you are walking around, tail-feathers down. Paint the cardboard bright, electric green, like the green scale-feathers that support the plumage. Affix the longest peacock feathers to the base and build up, creating the aesthetic you desire.
*A Special Note*
Peacocks naturally shed their tail feathers every year, therefore it is absolutely possible to buy cruelty-free tail feathers that have not been plucked out of season or caused the harm of any living creature. Be diligent about where you buy your feathers from and go for a company from here within the United States. It is illegal to export peacock feathers from India, yet poachers continually break the law and smuggle them out of the country. Be an educated consumer and do not support criminals. The prices are often much more inexpensive than buying from China so take your time and do your research. Fake feathers are always in fashion and will be less expensive than the real thing!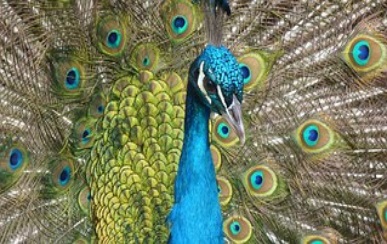 6.Details –
Try to mimic the fabulous crest feathers of the peacock by making them by hand or using a few tail feathers in their place. A gorgeous substitute would be to make a headband to which a few stiff, beaded strands can be attached. Add as many or as little detail as you'd like, the most important thing is to have fun every step of the way!
A peacock costume is the perfect way for a person who loves to play dress-up to celebrate Halloween at work or about town. Full of fun and impressive details, this costume guide will satisfy every ambitious costume lover and can either be work-appropriate or attention-getting, just change your dress.

You Found the Ornament!
Enter HolidaySale2014 at Checkout to Receive 17% OFF Your Entire Order!