St. Patrick's Day Tights and Hosiery
Thursday, February 19, 2015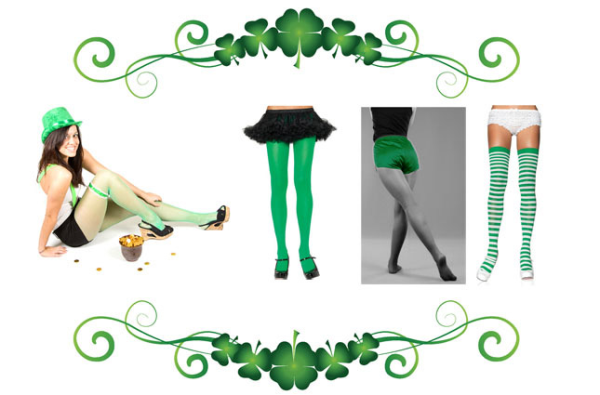 Green Tights and Hosiery for Feisty Irish Style

Everybody is Irish on St. Patrick's Day! You'll be the cutest of all the Irish with green tights and playful pantyhose from HotLegsUSA. The best thing about our hosiery? It's high quality without the high price tag, so you save more green without sacrificing style!
Short Shorts for Sexy St. Patrick's Day Style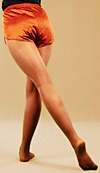 Here's a great way to stand out amid the sea of green – whether you're at a parade, party or the club! Cobblestone Activewear shorts are beautiful, bright and form-fitting! Choose Cobblestones Activewear Shorts, gold short shorts or orange short shorts from the dropdown menu. We offer these Cobblestone Activewear shorts in a wide variety of sizes and colors, so pick your favorites!
These short shorts are breathable, soft and super comfortable! Irish eyes will definitely be smiling – at you!
Green Opaque Tights from Leg Avenue

Our Opaque Nylon Tights from Leg Avenue are perfect for a cold March day. Don't let the temperature keep you from being stylish on St. Patrick's Day! These opaque green tights are available as a one-size fits all – offering a perfect fit – no matter your size or height. Pair them with a jean skirt, shorts, a little black dress or super cute leg warmers!
Green Striped Thigh High Stockings are Super Cute and Totally Festive

Our Nylon Stockings With Stripes from Leg Avenue are sure to give you the luck of the Irish on St. Patrick's Day. These thigh highs are a fun, flirty twist on traditional green tights! They're created with a nylon polyester blend, so they'll keep you warm, comfortable and looking super cute! Our green striped thigh high stockings are perfect for fun fashion on St. Patrick's Day!
White Knit Tights Are Warm and Wearable from Fall to Spring!
These Crochet Net Tights from Leg Avenue make great St. Patrick's Day tights, but they're also versatile enough to wear from Fall to Spring! Our white knit tights keep you warm without compromising style.

You Found the Ornament!
Enter HolidaySale2014 at Checkout to Receive 17% OFF Your Entire Order!