Pirate Captain Costume Guide
Friday, October 9, 2015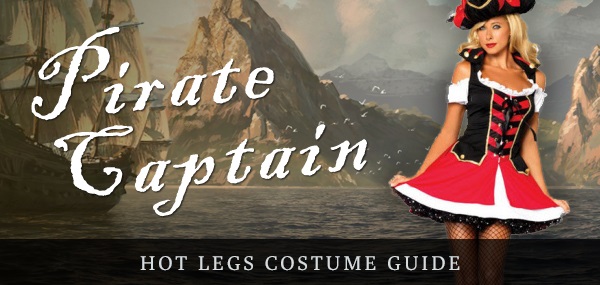 How to Create a Pirate Captain Outfit
1. Get a pirate hat.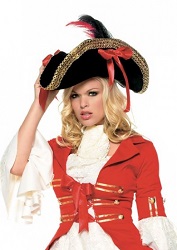 To show who is captain, a magnificent hat will be required. It's common pirate lore that the best captain always has the best hat. The Ladies Pirate Hat can be worn to show everyone you're in charge. All who oppose ye shall be foreced to walk the plank!
2. A motley dress.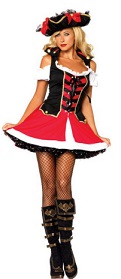 Hot Legs USA offers two outfits for potential pirate captains. Aye Aye Admiral dress is fun and flirtatious while the Pirate Beauty is a tougher yet sexy option. Each dress is red, white, and black to strike fear into the hearts of your enemies.
Aye Aye Admiral has a velvet waistcoat and corset for showing off your tan. Everyone will be sure recognize the true captain when you come aboard for a Halloween party.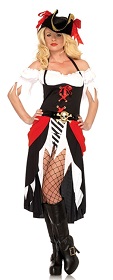 A skull and crossbones on your Pirate Beauty belt will let everyone know you're not to be mutinied. With a pirate hat and sword at your side, no one will mistake ye for a commo wench.
3. Fishnet tights.
A nautical woman is resourceful, making tights out of fishnets before sailing off to parts unknown. A pair of Pirate Captain Costume Fishnets will fit and feel better than actual nets and contain glitter to give you a slick shimmer.
4. Knee high boots.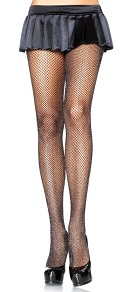 Don't forget to waterproof before taking your boots to the high seas. Any pair of black or brown knee high boots will do under your fishnets. Don't have a pair? Black leg warmers from Hot Legs USA will give you a quick fix for far cheaper than a pair of real leather boots.
5. Treasure.
Grab all that glitters and go out with your booty this Halloween. Accessorize with anything from a compass to a telescope to a bottle o' rum. Needless to say, you'll be the life of the party no matter where you take port.
6. Makeup.
Check out this awesome makeup tutorial to look captivating this Halloween.
Pirate Captain Halloween Costume Tights
Sing a pirate shanty this Halloween when you become Queen of the High Seas. Hot Legs USA pirate captain outfits for women are always a hit for parties. Don't worry about complicated costumes with two nearly complete pirate outfits to choose from! Gather your crew and sail to parties unknown with an easy to assemble pirate costume.

You Found the Ornament!
Enter HolidaySale2014 at Checkout to Receive 17% OFF Your Entire Order!