The Twelve Tights of Christmas Collection 2017
Tuesday, December 12, 2017
Shop the Collection – No Mall Required!
Christmas is now only days away…
But don't freak out. We've rolled out our Twelve Tights of Christmas Collection – our select legwear pieces that are great for gifting and for getting! Say good-bye to Christmas shopping ruts, long lines, and mall parking lot rage – shop Hot Legs USA for the best gifts at the lowest prices.
Check out the collection of our favorite legwear for the holidays!
We promise we won't sing.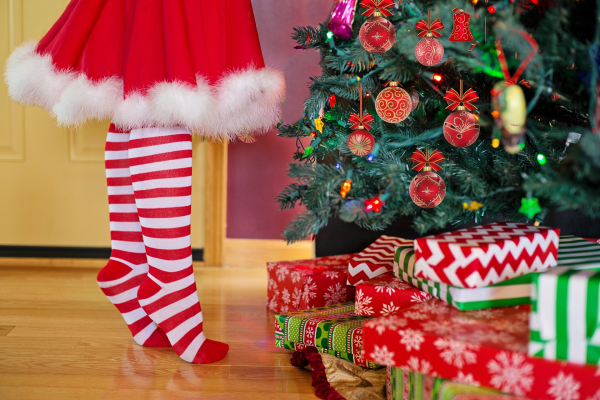 A Pair of Candy Cane Socks
Hot Legs USA makes it easy to celebrate the holidays with our wide range of legwear. From last-minute shopping to small-budget outfit upgrades, we've got you covered! Our candy cane thigh high socks are great for any Christmas occasion – shop our holiday selection now before time run's out!
2 Love Doves
Silver bells are turning into wedding bells more frequently than ever before. Many couples are either getting engaged or married during the holiday season – what better gift to give the blushing bride than our pretty lace top wedding bell stockings? They're great for bachelorette parties, bridal showers, and more.
3 French Girls
Ooh la la! Channel a French vibe and dress up any holiday dress with these hot rhinestone back seam fishnets. Skip the gifting – this can be a present to yourself!
4 Sassy Cats
Meowww – our hot-to-trot lycra sheer leopard print tights are the cat's meow. Jazz-up a dull outfit with these fun tights and get ready for a night out on the town. These also gift well for that super girly-girl in your family or friend!
5 Sparkly Looks
Let your legs shine bright with our Lurex glitter fashion tights – sure to catch anyone's eye this holiday season. Get festive and pair with a sparkly dress to celebrate Christmas, or even New Year's Eve. Have a friend that loves everything luxurious? Sneak a pair of these tights in their stocking!
6 Dots & Patterns
Keep it interesting with our sheer polka dot pantyhose. Add a little fun to your holiday outfit – just in-time for the holidays! Pair with a long ugly Christmas sweater or skater dress for a wide range of fashionable looks. The sky's the limit.
7 Bows a Floating
Deck your legs with bows of holly! We've got our vintage bow sheer pantyhose ready to go for the holidays. Wear these bows with your favorite festive dress to get the ultimate flirty look. Psssst, they're also great as stocking stuffers!
8 Maids a Vibrant
Keep your legs looking warm and colorful with our opaque nylon tights. We have an entire variety of hues – great for any occasion and outfit pairing. Celebrate the holidays this year in color!
9 Ladies Dancing
Throw on your dancing shoes and our peavey opaque microfiber tights for an evening to remember. Dance the winter blues away and stay warm with our fashionable legwear – certain to go with any dress, tunic, or festive skirt.
10 Legs a Leaping
Decorate those leaping legs with our flowery baroque lace pantyhose – the perfect classic touch to any outfit. Give the gift of lace, or treat yourself!
11 Pipers Piping
Argyle never goes out of style! Warm up to our Heather argyle tights and stay fashionable all season long.
12 Leggings Warming
Stay comfy and cozy during the holidays and wear our seamless lace trim leggings with anything! From ugly Christmas sweaters and sweater tunics, to dusters and oversized sweatshirts, solid black leggings can go with everything. Give the gift of comfy or shop for yourself at Hot Legs USA!

You Found the Ornament!
Enter HolidaySale2014 at Checkout to Receive 17% OFF Your Entire Order!