leg ave thigh high
Retail Price:
$9.99
OUT OF STOCK
Product Features
85% Nylon, 15% Spandex
Available in two colors
Stay Up Top
Hosiery for Halloween!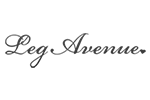 Leg Avenue Athlete Nylon Thigh High Black Socks with White Stripes are a high-scoring item to go with your Halloween costume! These Nylon Thigh Highs are lightweight and comfortable, perfect for Halloween costumes! These Leg Avenue Athletic Thigh High socks are available in Red with White Stripes and Yellow with Black Stripes, one size fits most.
See more cosplay guides from Hot Legs USA to prepare your Halloween costume.
Leg Avenue Nylon Thigh High socks from Leg Avenue put the finishing touch on lots themed Halloween costumes! Dress up as a soccer player, cheerleader, or a referee – complete your Halloween costume for a fraction of the cost by purchasing these Leg Avenue Athlete Nylon Thigh Highs socks from Hot Legs USA! Pair these thigh high athletic socks with a pair of Peavey or Tamara Hosiery for extra warmth and shiny, slim looking legs.
Slip on a pair of these Leg Avenue Nylon stay up thigh highs with a pair of Cobblestones Activewear Shorts for a sexy Halloween costume! These Halloween pantyhose are a high-scoring item for all your athletic Halloween pantyhose needs! Athlete Nylon Thigh Highs are comfortable, versatile, and reasonably priced! Shop online at Hot Legs USA for more great Halloween pantyhose!
Shop Thigh High Stockings or all tights, pantyhose and hosiery.

You Found the Ornament!
Enter HolidaySale2014 at Checkout to Receive 17% OFF Your Entire Order!