Hot Halloween Costumes for 2014
Monday, September 22, 2014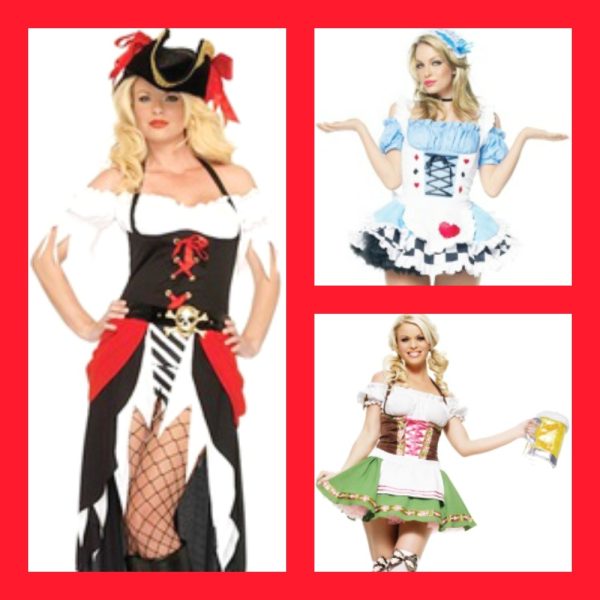 Sexy Halloween Costumes with lots of extras - Choose from our Leg Avenue Halloween Costumes!
Hot Legs USA is excited to announce our fabulous hot Halloween Costumes are back for the Halloween season! We also have a stellar lineup of Halloween hosiery, from thigh highs and fishnets to patterns and colors! October is on the horizon, and with a few choice Halloween parties coming up too, you want a plan! Plus, as fun as it was to throw on a sheet and go as a ghost in the days of your youth, a girl wants something more involved now. Something fun, something svelte, sexy, saucy, sassy, sweet... you name it, we have the perfect women's Halloween costume for you!
Leg Avenue is famous for turning out gorgeous, sexy Halloween Costumes for great prices. At Hot Legs USA, our price is the lowest you'll find! We believe you should have access to top tier Halloween costumes without breaking the bank! And we don't think you should have to skimp on the Halloween costume accessories which make your outfit great… we have tons of adorable Halloween thigh highs, Halloween fishnets, spiderweb tights and spiderweb thigh highs…you name it, we're ready for you! As you can see from our great hosiery prices, we take our low cost commitment seriously. Plus, we have lots of cute little Halloween accessories. Did you need an adorable lacy petticoat to fluff up your pirate skirt? Well, we totally have an adorable lacy petticoat (Actually, we have three… and one of them is the perfect body double for a Halloween tutu). But should we get specific? Let's get specific. We have so many hot Leg Avenue Halloween costumes, you need to see exactly what we're talking about!
Sexy Pirate Costume

Ahoy… who's that walking down the street? It's a buxom beauty in a pirate costume, a'course! Flaunt your sea legs this Halloween with this gorgeously detailed Halloween pirate costume – with lots of high quality features, it's fit for a pirate queen! A corset-front pirate dress with a velvet waist coat flatters the pirate's figure, and a flouncy red and white skirt shows off the pirate's legs! Gold ribbon trim with gold button accents seals the deal.
As any wench worth her salt knows, a petticoat adds lots of flounce and bounce to Halloween costumes! We have the perfect one for the Aye Aye Admiral pirate costume – black teardrop lace cuffs a sweet flouncy black petticoat! And of course, you need some sexy stockings to complete the look… whether you want lacy thigh highs, spiderweb tights, or sexy Halloween fishnets, we have options!
Alice in Wonderland Costume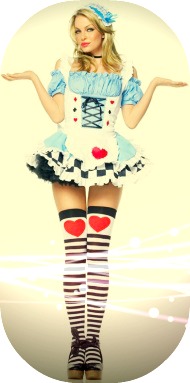 If you walk around in a dream world on a daily basis, the Alice in Wonderland Halloween costume is for you! This fanciful costume is full of whimsy and charm, with a lot of flounce and bounce, ruffles, and cute extras! The Alice in Wonderland costume features a sweet blue blousy dress, with an attached corset apron. This Leg Avenue costume features an alluring off the shoulder design, stitched heart detailing, a checkered underlay, and lots of ruffles! Breaking down in the back to complete ruffles topped with a bow, this dress is a mini masterpiece! Plus, the lace ruffled headpiece is a dream within a dream… now down the rabbit hole you go!
There's lots of opportunity for a gorgeous little petticoat and pair of stockings with this costume, and we have the perfect thing! A light pink petticoat adds poof to the Alice in Wonderland skirt, and you have a few options on the thigh highs, too: you could go classic, or keep things on the costume track and take this to the next level. If you want classic allure, do something sexy and sheer, with a little lace detailing: the stay-up lace topped thigh high! Available in white, red, black, and nude, this thigh high is just what you need to complete the look. If you want to go the mad hatter road, try on some poker print thigh highs for size!
German Beer Girl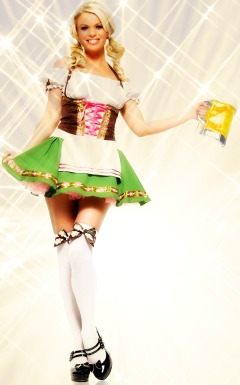 The German Beer Girl is one of our favorite Leg Avenue costumes! As far as sexy Halloween costumes go, this one scores a perfect ten. The detailing, cut, and colors of this costume all scream BEER GIRL! This hot Halloween costume is available in plus size! The peasant top dress has an off the shoulder design, and features a cross-ribbon corset top with pretty pink ribbon! The entire costume is decked out in little extra accents, which is why we love it so much… and sweet satin ribbon trim adorns the costume at the top, sleeves, skirt, and apron! This plus sized Halloween costume is sweet and sexy fine – with the old world charm of the German beer halls and the modern sassy sexiness of Leg Avenue's Halloween costumes!
We love the little bows on the complimentary over-the-knee stockings which come with the costume, but we also have some awesome plus size hosiery options! White fishnets are the perfect thing for this hot Halloween costume, and the classic queen sized stay-up thigh highs are a great compliment too! If you're looking for that extra touch, we recommend the German beer stein purse to go with this costume. It's AWESOME – the perfect way to add an accessory and carry your phone safe all night!
Adult Halloween Costumes at the Best Prices!
Hot Legs USA has high quality Halloween costumes available at the best prices! These aren't cheap costumes, they're premium Leg Avenue Halloween Costumes. We bring them to you for the best prices available! So this Halloween, go forth impeccably dressed and ready to have the time of your life! We have everything you need to make it a memorable night with lots of great picture opportunities, thanks to your hot Halloween costume! Be the light of the party and win a few costume contests while you're at it!
xox Hot Legs
Check out more of our hot Halloween costume offerings and Halloween hosiery, too! We have costumes for men and women's costumes, so find your favorite and have a happy Halloween!

You Found the Ornament!
Enter HolidaySale2014 at Checkout to Receive 17% OFF Your Entire Order!