Rey (Star Wars) Costume Tutorial
Monday, April 4, 2016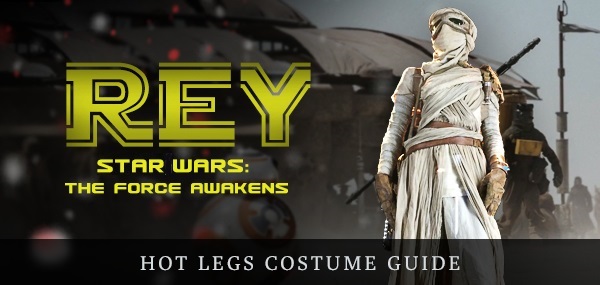 How to Make a Rey (Star Wars) Outfit
1. White tunic.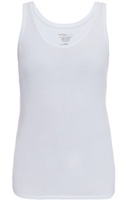 Start with a regular white tunic at the base of your Star Wars costume. Rey's undershirt is a little weathered from sandstorms, so have fun roughing up your Decoy Sportswear white tunic from Hot Legs USA. This comfortable tunic top is a Lycra, spandex, and cotton blend, giving you better breathability while wearing this costume.
2. Gray leggings.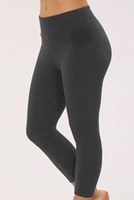 Perfect for running from Stormtroopers, Rey wears regular knee length gray leggings or capris yoga pants under her tunic. Feel free to get a pair with pockets for holding candy while trick-or-treating. Just like the tunic, you should give your leggings a worn look to resemble the harsh living conditions on a desert planet.
Purchase gray, tan, or beige leggings now.
3. Footless pantyhose.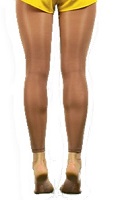 While Jakku may be hot, Earth in October is not. Keep your exposed shins warm with Peavey Premium Quality footless pantyhose. These pantyhose come in different shades to match a variety of skin tones for your Rey costume while streamlining the appearance of your legs.
4. Brown boots.
Rey wear simple brown boots which end around her calf. In fact, the regular UGG boots sitting in your closet are just what you need for this DIY Star Wars costume. If you don't have a pair of UGGs, any short brown boots will do. Use a pair without laces or buttons to most accurately match Rey's footwear.
Find brown slip on boots for your costume today.
5. Gray or tan cloth.
This part of Rey's costume can be lots of fun. Drape long gray or tan fabric in a crisscross pattern over your shoulders. Use a regular brown belt to hold the fabric in place and create a skirt with the excess material. You can customize the length of your skirt for a completely unique DIY look. Use the same fabric to wrap your arms as well.
Buy beige cloth for a personal touch to your costume.
6. Triple bun hair.
Like Princess Leia and Padmé Amidala before her, Rey has a very unique hairstyle. Fortunately, hers is easier to replicate than the royal styles. Her brunette hair is pulled into a simple three-layered bun. Starting at the top of your head, separate one third of your hair into a bun at the top back of your head. Create a second bun directly below using hair from the next third of your head, and collect any remaining hair into a third bun below the first two. If you don't have enough hair to pull off this style, try with only one bun or a regular ponytail instead.
Rey (Star Wars) Halloween Pantyhose
May the Force be with you this Halloween as you create a DIY Rey costume. Although little is known about this character, her outfit has already become a popular costume piece for Star Wars fans around the world. Wear your awesome outfit again for the December premiere of The Force Awakens or for a cosplay contest.

You Found the Ornament!
Enter HolidaySale2014 at Checkout to Receive 17% OFF Your Entire Order!