Raggedy Ann Costume Guide
Wednesday, October 7, 2015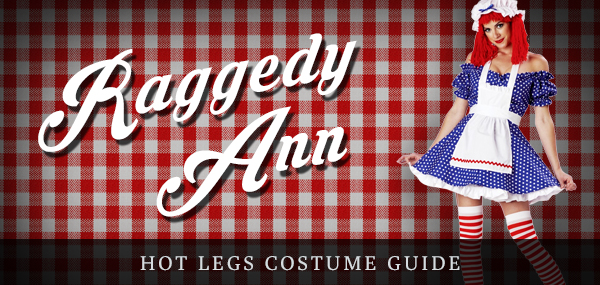 How to Make a Raggedy Ann Outfit
1. Blue smock.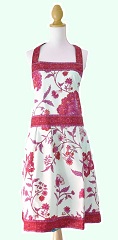 For your Raggedy Ann costume, start with a blue smock. If you're going for accuracy, the smock should reach past your knees and cover your arms. Of course, you can update the costume and use any length or sleeve-style you want to really make this doll your own.
Find your perfect Raggedy Ann smock now.
2. White apron with red trim.
Raggedy Ann doesn't just wear a plain white apron. Cover your apron with little red hearts, ribbons, and bows to let out your inner child. Cut hearts from felt for a DIY solution to your apron decorations. Use fabric tape so you can reuse the apron after Halloween, or make your apron permanently lovable by hot gluing or sewing the hearts and ribbons on.
Buy your vintage Raggedy Ann apron now.
3. Red and white stockings.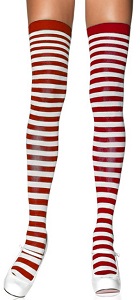 No Raggedy Ann costume would be complete without her signature red and white striped stockings. Available from Hot Legs USA, Raggedy Ann Costume Stockings are just what you need to tie your costume together. These over the knee stockings work with either the traditional smock or a shorter, modern version.
Get Raggedy Ann's stockings from Hot Legs USA!
4. Black shoes.
Any pair of slip on shoes in black will work for Raggedy Ann's style. A pair of plain Mary Janes would be best to match the original doll's design.
5. Red wool hair.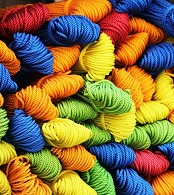 Raggedy Ann sometimes wears a white bonnet, but her red wool hair is recognizable anywhere. You can create your own wig using red yarn, or you can use a pre-made wig. If you make your own, use the white bonnet to hold the wig in place and hide your real hair.
Purchase a red wool wig for your Halloween costume.
6. Painted face.
Raggedy Ann has bright red cheeks, black eyes, and a touch of red at the center of her lips. Most importantly for this outfit, Raggedy Ann's nose is represented by a red triangle. Use red face paint to paint your nose and regular blush for your cheeks. Add a dab of lipstick at the center of your lips and your costume is complete!
Raggedy Ann Halloween Stockings
Be a complete doll this Halloween when you make a Raggedy Ann costume! This DIY costume is easy to create and can be modified for trick-or-treating or a Halloween dance party. Have a friend dress up as Barbie for a toy theme or find a guy to go as Raggedy Andy for a couple's look.
Bonus Annabelle Costume!
The horror movie Annabelle is based on a real doll by the same name. Although shown as a different doll in the movie, the real Annabelle was a regular Raggedy Ann. Use the same steps as above to create a creepy Annabelle costume by smearing the face paint, tearing the apron, and using fake blood to give yourself a murderous appearance.

You Found the Ornament!
Enter HolidaySale2014 at Checkout to Receive 17% OFF Your Entire Order!