Pantyhose, Stockings, Leggings and More on Your Christmas List
Wednesday, November 28, 2012
by Jane HotLegsUSA
Give Santa some slack and help bring the goodies home! Christmas is coming up FAST! Get all your holiday cheer and gear sent to you and your friends from HotlegsUSA. We have all your favorite pantyhose, stockings, and leggings for your sexy Christmas outfits this year. Hotlegs wants to help you to turn up the heat this winter by making sure you look and feel sexy through the holiday! Check out all of our new sexy colorful pantyhose, stockings, and leg warmers!
Leg Avenue Sheer Stockings with Backseam and Cuban Heel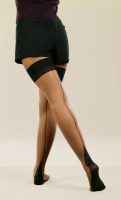 These Sheer Nude thigh high stockings with an ultra sexy back seam and Cuban heel with a contrast red top are just what Santa ordered! Give your everyday look a little spice in these thigh highs. These flirtatious pantyhose will give you a glamorous feel every time you wear them. Pair them up with some of our hot mini dresses or fun accessories! Buy Leg Avenue Sheer Stockings with Backseam and Cuban heel online now!
Leg Avenue Nylon Stockings with Festive Stripes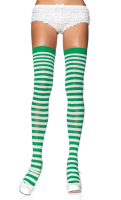 Stuff your stockings with these festive green and white stockings! Keep those hot legs warm with all of our striped stockings and pantyhose this year. These playfully fun stockings are the perfect way to make your outfit have a little pop of color. Soft and comfortable yet sexy and fun, pair up any mini skirt, dress or shorts for festivity and holiday charm. Whatever your mood is, we've got it all here for you! Buy these Leg Avenue Green Striped Nylon Stockings online now!
Leg Avenue Lace Top Stockings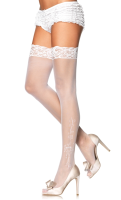 Shine brighter than the snow this winter with any of our white thigh highs, pantyhose, or leg warmers. Try these Sheer White Lace top stockings by Leg Avenue. Leg Avenue Sheer white lace top stockings are the perfect accessory to pair with your favorite holiday dress! With the beautiful detailed lace top and elegant feel Leg Avenue Sheer white Lace Top stockings are going to be your go-to special occasion stockings. Buy these Leg Avenue Lace Top Stockings online now! Pantyhose, Stockings and More From Hotlegs to Complete your Holiday Outfit!
You can always count on Hotlegs USA for all of your holiday accessories. Take a peek at our great selection of ankle socks , pantyhose, tights and leggings for some unique stocking stuffers! Don't forget to check out our hair pieces and petticoats for you or your friends and family. With many different styles of pantyhose this season, no matter what you're wearing, you can always slip on a pair of Hot Legs pantyhose to complete your outfit!
Check out our extensive line of Pantyhose, Hosiery and accessories for yourself or as a gift this holiday season at Hot Legs USA

You Found the Ornament!
Enter HolidaySale2014 at Checkout to Receive 17% OFF Your Entire Order!