How to Dress Like Your Favorite Sports Bar Waitress and Other Characters this Halloween
Wednesday, September 26, 2012
Dressing like a sports bar girl is a fun and easy costume with the help of Hot Legs USA. We carry all the accessories and pantyhose you need to pull off the perfect wings-bearing bar maid. Start your costume off with the signature shorts. Our Cobblestones Active wear Shorts come in a variety of colors including orange.
Sports Bar Waitress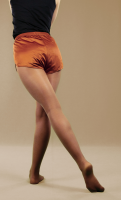 Create the silky smooth legs of a sports bar girl with our Peavey Suntan High Gloss Tights. You won't have an ounce of cellulite with these tights and you won't have to worry about your short shorts showing too much leg. Our Scrunchie Socks paired with a white pair of athletic shoes and your look is nearly complete. Top off the costume with a Cotton Lycra Midriff Tank and a push-up bra and you're bound to have men offering you their wing orders all night.
Sexy Nurse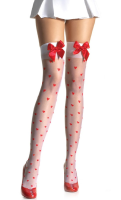 Dressing like a sexy nurse is simple with a little help from Hot Legs USA pantyhose. Start with a white mini-skirt accessorized with Leg Avenue Lycra Sheer Stockings. These thigh high white stockings accented with red bows and red hearts are sure to make the man in your life come down with a fever. Top your costume off with a Cotton Lycra Midriff Tank and you've just become the naughtiest nurse ever serving the sick.
Black Widow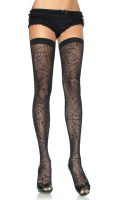 Are you wanting a costume with a little more mystery this Halloween season? How about a sexy black widow costume? This costume can be as easy as wearing Hot Legs USA's Spiderweb Lace Thigh Highs with your favorite little black dress. Slap on a pair of killer black heels and you're bound to begin luring prey into your web. If you want to accessorize a little further add a Fascinator Hair Clip in black. No matter what your desired look, Hot Legs USA has the pantyhose, hosiery and accessories for you.
Hot Legs USA is a leading seller of pantyhose, hosiery, accessories and Halloween costumes. Whether you're in need of a complete costume, some sexy thigh-hi stockings or some sexy accessories, we're here for you.

You Found the Ornament!
Enter HolidaySale2014 at Checkout to Receive 17% OFF Your Entire Order!