Trick or Treat Yourself with Our Hot Halloween Costumes!
Friday, September 27, 2013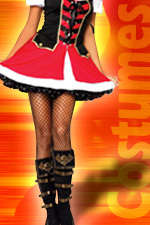 Limited Time ONLY! Order While Supplies Last!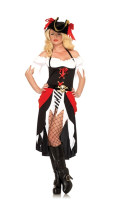 Hot Legs USA brings our sexiest Halloween costumes right to your doorstep! Grab all the attention from the typical maids, referees and nurses in our eye catching costumes! Stand out by creating a completely one-of-a-kind look with our Halloween costume accessories, hair pieces and tights.
Show off your dark and dangerous side; get into a little mischief in our Pirate Beauty or Aye Aye Admiral costumes. Don't get lost out at sea without some sultry leggings or leg warmers! If you dare, pair this Halloween costume with our sexy Leg Avenue Lycra Opaque Pantyhose with Diamond Net underneath Leg Avenue Leg Warmers With Snap Side. Put it all together and these smoldering costumes really POP!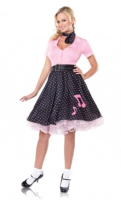 The Sock Hop Sweetie is the perfect Halloween costume to bring out your sweet side. Dance the night away in this innocently sexy costume. Slip into a black or pink Petticoat for an extra layer of flirty flare. Our adorable soft- pink Leg Avenue Sexy Lace Anklet socks or Leg Avenue Satin Cuff Anklets are perfect with this super sweet Halloween costume. Sugarcoat your legs in any of our cute and flirty anklets or knee high socks! Rock all the studs' socks off while keeping a little something to the imagination.
Bring Alice to life in our Alice in Wonderland costume. Venture into a mystical land of imagination in this enchanting Halloween costume. Amp up your naughty Alice look with flirty Leg Avenue Knee Highs.
Choose from our wide variety of sexy Halloween costumes and accessories. Enjoy all of our flirty, fun and funky accessories and Specialty Print Tights for all your Halloween and Hollows Eve Parties!

You Found the Ornament!
Enter HolidaySale2014 at Checkout to Receive 17% OFF Your Entire Order!