Hooters Girl Makeup: A How-To Guide
Monday, January 12, 2015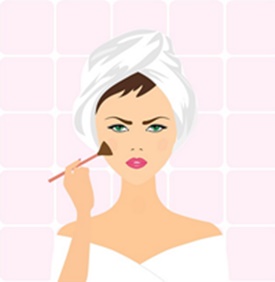 Hair and Makeup Tips to Help Emulate our Favorite Waitresses
Hooters girls are recognized throughout the nation due to the iconic orange shorts, white tank tops and pretty faces. In order to be a Hooters girl, your makeup needs to be clean, healthy, natural and vibrant. A light smoky eye, blended foundation and slightly glossy lips are all you need to have the classic Hooters girl style for Halloween or even everyday wear. For the smoothest, most even makeup application, we recommend using proper tools, such as foundation brushes, eyelash curlers and an eyeshadow brush set.
Naturally Accentuate your Features
A light application of well blended foundation will give your face even coverage while covering up any blemishes. Add some blush to the top of your cheekbones instead of the apples of your cheeks. This will still give you a rosy glow, while contouring a slimmer face appearance. Use light, neutral colors around your eyes which will make them pop, while avoiding heavy, unnatural liners. You won't find any Hooters girls wearing harsh black eyeliner – remember to look natural! Find your eye color below to find which colors will complement your eyes, making them pop without the appearance of heavy makeup.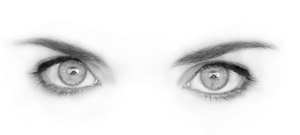 Blue Eyes
If you have blue eyes, warmer shades will really enhance their natural beauty! For a vibrant, healthy look, blue eyes should try for soft brown, tawny colors – such as Urban Decay Eyeshadow in Midnight Cowboy. If you want to dress it up a little, a light brush of gold over your lid, softly blended into the socket, will keep it neutral with added sparkle. Try lining your bright blues with a golden brown color right along your lash line to get a smoky appearance.
Brown Eyes
Brown eyes are lucky – you have the widest range of color options! Since brown is already a neutral color, you don't have to worry as much about competing colors. For the naturally vibrant Hooters girl makeup, warm bronze and peach colors offer subtle shimmer – try Sonia Kashuk Monochrome Eye Quad in Textured Taupe. Blend in some gold for extra sparkle, and to avoid the eyeshadow from looking "flat" on your eyes.
Green Eyes
Shades of purple or brown with a red undertone will ensure your green eyes really stand out. We recommend wine or mauve for lining the eyes, because they appear to look brown from a distance, but will still make your iris pop, such as the Sephora Flirty to Intense Purple palette. A soft addition of rose-gold blended in with make your eyes appear a more emerald color – natural Hooters girl beauty with a twist!
Hazel Eyes
Since hazel is a range of colors, typically with flecks of gold, green and brown, you can use certain colors to play up the natural color you wish to enhance. If you want them to look more green go for purples, however if you'd rather look more brown use grey tones – such as M.A.C Eyeshadow in Satin Taupe. For the iconic Hooters style, frame the eye with one solid shade to cause the gold flecks to sparkle brighter.
Complete your Hooters Girl Makeup
Top of your eyes with a coat of mascara and dab on some lip gloss and your Hooters girl makeup is complete! Natural beauty is flattering on everyone, coupled with the rest of your Hooters girl costume will make you look like the real thing! From your natural beauty to the high gloss pantyhose and trademark orange shorts, you're sure to be the center of attention all night long.
Shop all Hooters themed apparel and high quality pantyhose available from Hot Legs USA.

You Found the Ornament!
Enter HolidaySale2014 at Checkout to Receive 17% OFF Your Entire Order!