Fall Tights and Pantyhose Fashion Trends
Tuesday, November 26, 2013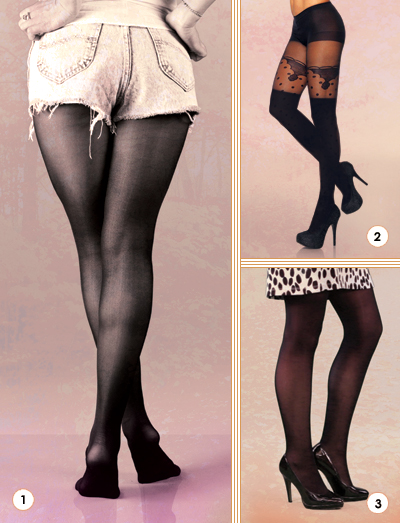 LAYER! LAYER! LAYER!
This season's fashion trend is all about layers, contrasting textures and beautiful patterns! Throw together your favorite boyfriend T, oversized cardigan and, of course, our ultra-stylish pantyhose and fall tights for ultimate feminine glam! Going into winter you'll need the basic fashion essentials. Accessorize your legs with uniquely patterned pantyhose and trendy colored tights from Hot Legs USA.
Trendy Fall Tights and Pantyhose: How to Wear These Bad Boys
Here are 3 different ways to fall into this year's hottest fashion trend!
Introduce texture by layering Peavey Premium Quality Pantyhose with our Leg Avenue Over the Knee Thigh Highs. Doubling up creates your own edgy detail. Add an element of dimension when you pair this with a warm knit sweater and stylish black shorts. Complete the look with knee high leather boots or some adorable oxfords!
It's okay to be a little unconventional when it comes to fashion! Mix up your fall wardrobe by wearing these trendsetting Sheer Polka Dot Pantyhose with a pleated high waisted skirt, cotton shirt and a wool scarf. For a more effortless, casual look add a pair of our Black Knee High Leg Warmers.
Classic and timeless always prevails. Keep your legs simple and chic in our Opaque Microfiber Tights. Uphold this everlasting look by wearing opaque tights with nearly everything in your wardrobe this season. Dust off those Mary-Janes and throw on your best dress for this vintage, yet ultra-modern look.

You Found the Ornament!
Enter HolidaySale2014 at Checkout to Receive 17% OFF Your Entire Order!