Zombie Cheerleader Costume Guide
Sunday, October 11, 2015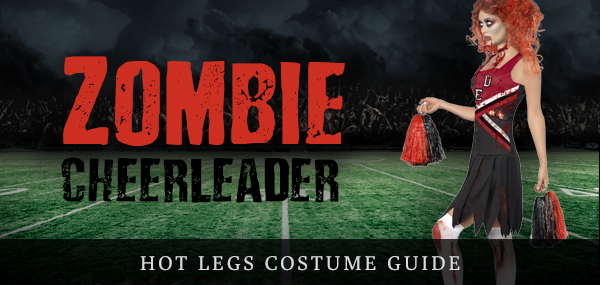 How-To Dress Like a Zombie Cheerleader
1. Cheerleading Uniform -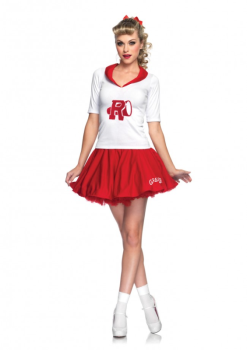 If you have a cheerleading outfit lying around and you don't mind altering it a bit with fake blood and perhaps some rips and tears (real or fake…) then you are already on the right track. If not, pick up this Cheerleading Costume, it's super cute and has a retro look with a vintage vibe. Why risk losing the nostalgia of your old high school uniform by altering it, when this inexpensive costume is on sale at Hot Legs USA? Don't forget to wear essential athletic scrunchy socks to perfect the look.
2. Costume Tights -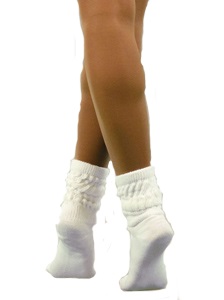 You can "zombify" any outfit by adding some washable fake blood and ripping up your costume tights. Pick up a pair of suntan-colored pantyhose to add to your sun-kissed-yet-dead cheerleader look and then add some festering wounds with makeup in the rips of the tights.
3. Makeup -
Realistic zombie makeup can be applied easily and with a simple color palate. Check out this instructional video tutorial to learn how to contour and shade an undead pallor.
4. Shoes -
You can wear sneakers with your cheer costume, which makes for a very practical and comfy costume, especially when hunting down live brains to eat. Or you can pair your vintage-look cheer costume with a pair of classic saddle shoes to wear with your ankle socks.
5. Hair –
You can wear your hair several different ways: a classic ponytail, a couple of plaits, or curl it and wear it down. Complete the look with a hair ribbon. Don't forget the hair spray!
6. Details –
Throw in some cheer pom-poms to authenticate the costume.
| | | |
| --- | --- | --- |
| | | |
For more creative costume guides or to shop affordable costume and wardrobe basics, check out Hot Legs USA.

You Found the Ornament!
Enter HolidaySale2014 at Checkout to Receive 17% OFF Your Entire Order!