Striped Stockings for Parties and Halloween Costumes
Tuesday, January 20, 2015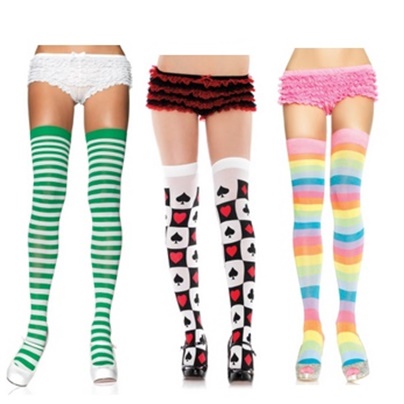 Show Your Stripes At The Next Theme Party!
A theme party is always a fashion challenge. How can you fit in without sticking out? Striped hosiery from Hot Legs USA is the way to go! We've got five stylish ways to fit the mood, show your colors and match the theme! It's party on when you put these stripes on!
Nylon Stockings With Stripes from Leg Avenue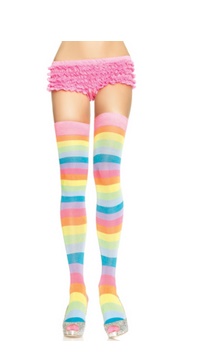 The brightly colored Leg Avenue Nylon Thigh Highs from Hot Legs USA are long-lasting 50% nylon and 50% polyester. Get ready for St. Patrick's Day with green and white striped stockings. Be a sexy leprechaun! Or hit your next costume party as a buzzing bee with black & yellow stripey pantyhose. Stockings with red and white stripes paired with a blue top will be great for July 4th. Have a grand ol' time waving the flag! It's a lot of style, color and comfort for a great low price.
Leg Avenue Black and White Stripey Leg Warmers
Striped Leg Warmers from Leg Avenue give you a great way to dress up leggings or skinny jeans! These are extra-long black/white stripey leg warmers. Quality leg warmers can be hard to come by, but these fashionable leg warmers are well-made and available in one size fits most. Get them right-priced and right now!
Stripey Knee-Hi from Leg Avenue
The Stripe Knee-Hi from Leg Avenue is a cute add-on to anything – dress, skirt or boots! If the scenery is all-white in winter or all-green in summer, you'll stand out with these stunning black and white stripey knee highs! These black/white Knee-Hi's come in one size fits most.
Leg Avenue Grey and Black Striped Opaque Thigh Highs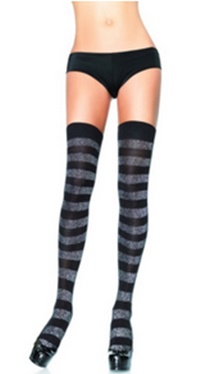 Our grey and black striped opaque thigh highs from Leg Avenue are gorgeous black/silver thigh highs which are 48% Acrylic, 35% Lurex and 17% Spandex. They'll last long and look great. Their big, bold stripes have just the right amount of sparkle. The highlights are perfect for any costume or outfit. Available in one size fits most. Look your best while spending less!
Thigh High Poker Print Striped Stockings from Leg Avenue
These thigh high striped stockings with Poker print from Leg Avenue are a winning hand at any Las Vegas Night! They are black, white and red – jam packed with hearts, diamonds, clubs and spades! The cards form the cutest back seam. Luck be a lady tonight! They'll provide fine light support with 85% Nylon 15% Spandex. One size fits most. No one will be able to keep a poker face when you show off your poker legs!
Be bold! Show your stripes! With top-quality striped hosiery from Hot Legs USA, you'll look your best!

You Found the Ornament!
Enter HolidaySale2014 at Checkout to Receive 17% OFF Your Entire Order!