Halloween Costumes Made Simple with a Few Accessories
Wednesday, September 26, 2012
by Jane HotLegsUSA
Do you want to participate in Halloween but don't want the excessive cost of buying a pre-made costume? Having a difficult time coming up with a costume with the choices in your closet? The following are some ideas from Hot Legs USA. With the simple selection of a novelty pair of hosiery and some creativity you can create an economic and fun costume for this Halloween.
Glitter Fashion Tights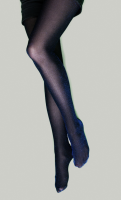 Do you wear a lot of grays and silvers? Pairing a gray sweater, skirt and Lurex Glitter Fashion Tights creates the beginnings to being the tin-man, or woman in this matter. Lurex Glitter Fashion Tights have a silver sheen to them making them a nice stocking to enhance your glamorous New Year's dress too. Add some silver face paint and a cone hat made out of gray or silver poster board and you're on your way with little preparation time.
Leopard Print Tights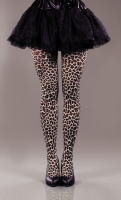 Are you fond of animal prints? Creating a wild cat costume is a cinch with Leg Avenue Lycra Sheer Leopard Print Tights. A print sweater, brown skirt, some cat ears and some make-up enhancements with a black eyeliner pencil and you're off into the wild to catch some candy. If you want to complete this costume, buy a second pair of Leg Avenue Lycra Sheer Leopard Print Tights. Stuff one leg with stuffing material and use the other leg to tie around your waist. Alakazam!! You have a tail! Costumes don't have to be difficult or expensive to be effective.
Athletic Thigh High Stockings
Has your jock boyfriend or husband told you last minute about a Halloween party and you're at a loss as to what to wear? No fear, this is an easy one. Grab one of your man's jerseys. Tie it at your waist. Slip on a short skirt and pair it with a pair of Leg Avenue - Athlete Nylon Thigh Highs. Bam! You're a sexy fan!! Get creative with an eye liner pencil and put some black strips under your eyes, throw your hair into pig tails to complete the look. The Leg Avenue - Athlete Nylon Thigh Highs work great with referee shirts too.
Rainbow Knee High Stockings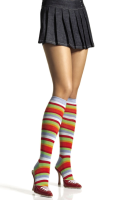 The hippy style has come and gone and come again. This costume isn't too difficult to throw together with the MultiColor Rainbow Knee-Hi. Put on a pair of daisy dukes with these colorful knee-highs and no one will even notice what you have on your top half. To complete the costume wear a loose, flowing blouse with long costume necklaces. If your blouse is sleeveless add a leather shoelace tie around your bicep. Top off this costume with bandana tied around your hair like a headband. Add a creative peace symbol to your cheek with a colored eye liner pencil and in an instant you're transported back to the 60's.
Having fun this Halloween season doesn't have to be stressful. Hot Legs USA is here to help you accessorize. If however you can't come up with a simple costume, check out our selection of adult pre-made costumes. No matter your needs, we're here to help.

You Found the Ornament!
Enter HolidaySale2014 at Checkout to Receive 17% OFF Your Entire Order!