Mad Max: Fury Road Costume Tutorial
Sunday, September 27, 2015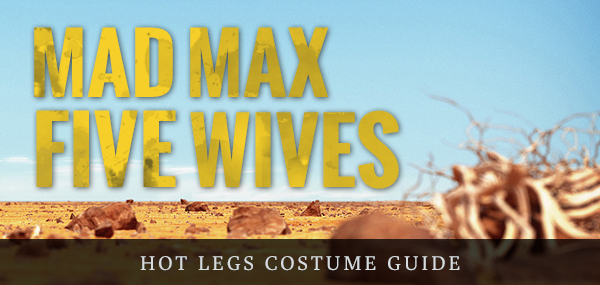 How to Make a Mad Max: Fury Road Five Wives Group Costumes
1. Optional: Nude bodysuits.
The Five Wives are dressed for a harsh desert. Since Halloween tends to be cool, a bodysuit under the rest of your costume will keep you cozy as you escape from War Boys and their allies. It will also help cover lumps and bumps and keep you wiggle-free as you run for your life. Dirty up the bodysuit to match the movie's aesthetic.
2. White Tops.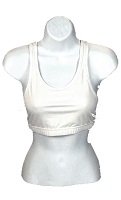 A regular sports bra in white is already more coverage than some of the Wives have. Use this one for a base to support you and your tattered rags. If you are uncomfortable exposing your midriff, a white tunic length tank top will help form the basis for the rest of your costume.
Shop tank tops and crop tops for your costume today.
3. White Bottoms.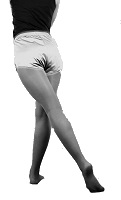 A pair of white shorts under your dress or tunic will keep you action ready. Long, flowing skirts in white are another way to imitate the Wives.
Shop white skirts for your costume now.
4. Accessories: Bandages, leather, and rags.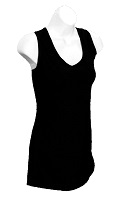 All Five Wives are in white rags dirtied by the sandy environment. Cut up old white fabric such as an unused bedsheet to cover your tank top and shorts. You can cover as much or as little of yourself as you are comfortable with. Rip up your skirt or lightly tear the hems of your top. Tie on a belt or create an armband with the same material. Use safety pins to transform strips of cloth into your own Wives dress. Add leather gloves or goggles to authenticate your survival look.
Shop white fabric for rags now.
5. Footwear.
Depending on the weather, worn-in boots are probably a safer option than being barefoot. If you're not wearing a bodysuit, try nude nylon tights to stay warm in cold weather. Dirty up the tights and any exposed skin to look as if you've been trekking through the remains of a post-apocalyptic world.
Shop for protective boots now.
6. Wild Hair.
The final step of this group costume is to make your hair as tangled and unkempt as possible. Try blow drying without brushing or braiding and then partially unbraiding your hair for a wild style. This tutorial offers some hair and makeup tips:
Mad Max: Fury Road Halloween Pantyhose
One of the most popular movies of 2015 is Mad Max: Fury Road. Perfect for a group of at least five or more, the characters of the apocalypse will stand out at any Halloween party. Portray these easy variations of the Five Wives costumes following the steps of this Hot Legs USA guide.
If you want a fun and original family costume, dress up your little one as Max or a War Boy and go trick-or-treating in a stroller or wagon decorated to look like a tricked out vehicle. And don't forget to have someone dress as Furiosa to be ready to save the day.
Order fun costume tights or cosplay pantyhose from Hot Legs USA today. Your Halloween or convention outfit will look great with our easy tutorials.

You Found the Ornament!
Enter HolidaySale2014 at Checkout to Receive 17% OFF Your Entire Order!