How to Make a Costume for Your Drag Queen Persona
Friday, July 27, 2018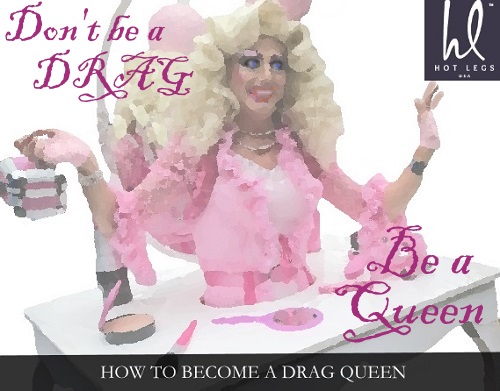 Makeup, Hair, and Clothing Tips for Drag
You're ready to embrace your inner diva and enter the world of drag. Where to begin? Start with this handy guide from Hot Legs USA to learn all there is about creating a the perfect drag queen look.
Step 1: Pick a Name
Every queen takes a regnal name. It defines who she is and solidifies her theme. The outfits, makeup, and hair worn by Miss Pretty will be very different from the style of someone called Supreme Queen Eileen. Don't forget to determine your pronoun preferences: some queens use "she/her" while in character, others stick with "he/him" for clarity. Figure out your persona to figure out your look.
Step 2: Make or Buy a Dress
Your dress (or skirt and top, or jumpsuit) needs to work for you. The right dress can add curves or draw the eye away from problem areas. Thrift stores are full of affordable dresses and jumpsuits you can tailor to your body.
Step 3: Control Your Hair
Your hair on your head and body can make or break a drag costume. Shave off that five o'clock shadow, your pits, your legs, anywhere you have hair that will be visible from your outfit. Don't worry, it'll grow back!
Bonus: A clean shaven face makes makeup easier to apply.
If you're wearing a wig, it's time to secure your real hair. If you have naturally long hair you'll need to put your locks into a bun first. Short hair should be combed away from your face. Next, use a wig cap to cover up. You might need to use hair clips to keep the cap in place.
Step 4: Do Your Makeup
With a clean shaven face and hair secured in a wig cap, it's time to make your face a canvas. Wash your face to clear your pores before you add makeup. Start with the basics: use foundation to cover up imperfections and discoloration.
Contouring can rebuild your face by creating higher cheekbones, narrower noses, and better eyebrow structure. Use a highlight on your highpoints to create better contrast.
Once you have a natural base, it's time to add color. You don't need to stick with basic red lips and pink blush. Use your persona as a base to pick the colors you want to represent you. Drag makeup is meant to be big and expressive, so don't worry about going overboard.
Use this tutorial from RuPaul's Drag Race Queen Mariah Paris Balenciaga to learn the basics of makeup.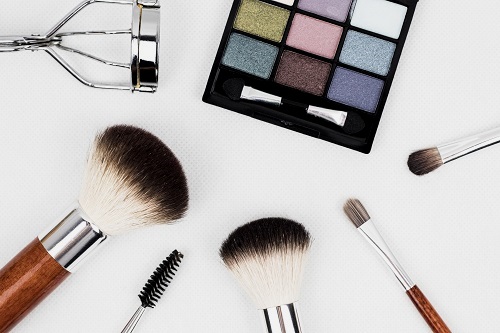 Step 5: Build Your Body
Now it's time to focus on transforming your body. As mentioned above, the right dress or pantsuit will go a long way in changing how your body looks. But some queens still need extra help down below.
Men's briefs, women's panties, and gaffs are all underwear types which can help you get a more feminine bikini area. Spanx or a bodystocking will also help.
Next, get a (comfortable) bra. How you fill the bra will depend on the rest of your outfit and body type. Some guys can fill a bra naturally. Others will need silicone fakes. If you're doing drag on a budget, you can just stick some rolled up socks into the cup.
Bra Sizing Tip: Use a fabric tape measure to measure your chest around from the widest point. This number is the first part of your bra size. The cup size (A, B, C, D, and so on) will depend on how big you want to look. So if you measure a 40 inch chest and want a C cup you'll need to shop for a 40C bra.
Step 6: Use Pantyhose and Tights
Pantyhose do double duty for queens: they shape your legs and hide imperfections (including in the bikini area). Some queens will layer pairs: a colorful pair of patterned tights over a natural, skin tone pair. Hot Legs USA has men's pantyhose for every queen:
Bonus: Pantyhose cover up leg hair, so skip shaving if you hate it by wearing a premium pair of hosiery. Just don't skip the pedicure, as talon toenails can cause runs in your pantyhose.
Step 7: Wear Your Dress
Slip into something a little more comfortable and get dressed. Your dress or jumpsuit should completely cover up your undergarments and pantyhose. If your outfit hasn't been tailored you can use belts and safety pins to secure your clothes.
Step 8: Add Your Wig
It's time to start pulling this look together. Always put on your wig from front to back in order to hide the wig cap on your forehead. Use bobby pins and clips to secure the wig to the wig cap. Use more pins if you plan on a lot of physical activity.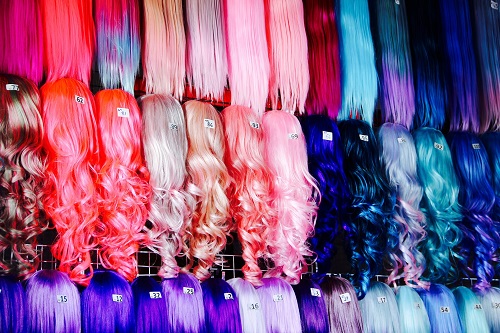 Step 9: Makeup, Nail and Hair Touchups
After getting dressed your makeup and hair might need a few final touches. This is the time to add extras like glitter, jewelry, or fake nails.
Step 10: Heels
The very last step: get into your heels. Whether you're in stilettos, pumps, or over-the-knee boots, save your shoes for last. Some girls even wait to change into their heels until reaching their destination.
Ta-da! Call me a fairy godmother because you are now a queen. Give yourself a final check in the mirror (you look gorgeous!) then go out to begin your reign!
Want to start small? Try a drag costume based on The Birdcage.

You Found the Ornament!
Enter HolidaySale2014 at Checkout to Receive 17% OFF Your Entire Order!