The Birdcage Costume Tutorial for Men and Women
Tuesday, September 29, 2015
How to Create a Birdcage-Inspired Outfit
1. Wigs and make-up.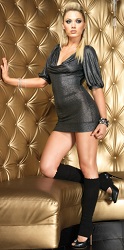 Bigger hair is better with The Birdcage drag queens. A medium to long wig with lots of teasing and volume should be worn like a crown. Drag kings will want to style long hair close to the head or cover it up with a short wig.
This tutorial by Miss Fame NYC is illuminating for makeup amateurs, those trying drag for the first time, or anyone that doesn't know the first thing about cosmetic brushes.
Make-up needs to be colorful, bright, and a little over exaggerated. The point is to standout and demand attention in a crowded club. If you're a man working on this cosplay, use make-up to soften you features and don't forget to highlight your cheekbones. Ladies, use contouring to make your face more masculine and try adding some five-o-clock shadow to really sell the look.
2. Clubwear.

Queens, you need a dress as hot as you are. Shimmer and foil clubwear dresses from Hot Legs USA are perfect for showing off your body in all the right places. Men may want to wear a bustier under their dress to give them a more feminine shape.
Women dressing as drag kings have a little more freedom and may wear anything from a tailored suit to jeans and a nice button-up top. And remember, binding can be dangerous and result in permanent damage if done incorrectly, so try a regular sports bra or legitimate binder for your costume.
3. Legwear.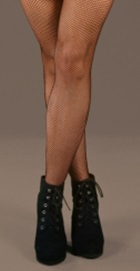 Hot Legs USA all the legwear you can imagine for a drag costume. A wide assortment of fishnets and gussetless pantyhose will make your legs the talk of the town. Our variety of men's sizes and styles will bring your inner drag queen to life.
4. Shoes.
Go for comfortable heels or full platforms. Just make sure to strut your stuff with confidence and dance the night away. Once again, drag kings can get away with any man's shoe.
The Birdcage Halloween Costume Tights for Men and Women
Men and women can enjoy this cosplay for a humorous and delightful time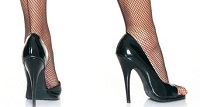 Adapted from a French play and film, The Birdcage is the hilarious tale relatable to so many – meeting the fiancée's parents for the first time. It becomes a little problematic when her father is a conservative senator and his fathers run a nightclub for drag performers. Whether you're a guy or girl, dressing like a drag queen or king is a fun, easy idea for your next group costume. Have one friend dress as a US senator for extra fun.

You Found the Ornament!
Enter HolidaySale2014 at Checkout to Receive 17% OFF Your Entire Order!