Daenerys Targaryen Costume Tights
Friday, October 2, 2015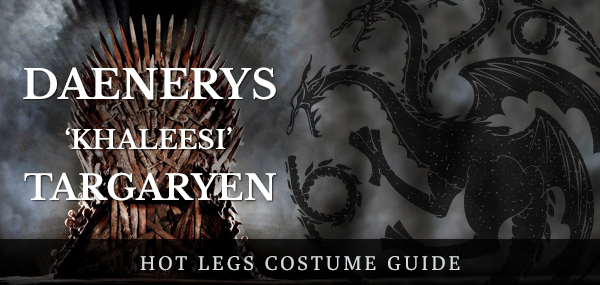 Mother of Dragons Halloween Costume How-To Guide
For the perfect DIY Daenerys outfit, we've broken the costume down into several easy-to-follow steps:
The hair:
You can either commit to some really expensive and time-consuming hair appointments or you can start looking for a good wig. A wig is also a smart choice because you will be able to braid your own complicated Khaleesi hair-dos rather than having to rely on someone else to do your hair. Some of these wigs even have the braids already. Choose your favorite twisty-braid style and adapt it to your skill level.
Check out a wide selection of wigs on Ebay.
Clothing:
Daenerys transitions many times throughout the storyline and so does her clothing. Choose your favorite evolution of the exiled queen. We are going to use her "traveling queen" look: the blue wrap half-dress with leggings, boots and a statement necklace, but every fan knows that there are a lot of looks to choose from.
Hot Legs USA has the base layers to make your costume a success.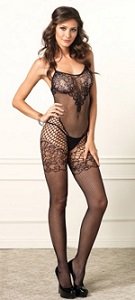 If you feel like making a sexy version of this look, start with an inexpensive but beautiful body suit that will keep you all tucked in for your night out. Check out the dragon-like scale lace detail on the hips; you'll feel hot but Unburnt all night long.

If you prefer a more practical look, we have sparkly tights to keep you warm and comfortable while enhancing your outfit. Hot Legs USA now offers Daenerys Costume Tights, a pair of high fashion tights in glittering black and silver. You can ride with your khalasar or atop your dragon in these magical tights.
Here are a few affordable costume pieces to choose from.
Footwear:
What we wear on our feet is so important. Some people have a Marine-like dedication to high-heels but if you are going to be walking a long way you may want to consider some sensible but sexy options.
Daenerys is a great costume choice for your feet because she often wears a rugged, practical leather riding boot. Many of us already have a similar style in our closets thanks to recent trends, and if so, great.
If not, there are plenty to choose from at a reasonable price.
Details:
Khaleesi of the Great Grass Sea does not have time for anything elaborate as a warrior queen on a journey to reclaim her throne. Keep your makeup neutral with a strong pair of eyebrows and some light-colored lipstick. Mascara looks good on everyone, just make sure it stays put. Check out this expert makeup tutorial below for more ideas.
Look for some avenging queen jewelry that you might wear again.
Etsy is great to find specific items and support small businesses.
If you have the inclination, look for some violet contact lenses, her eye color in the book.
Style Ideas: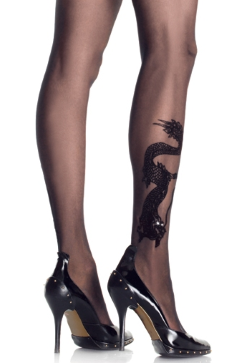 For the final touch, don't forget a dragon figurine or an egg. Make one by hand or if you are short on time, look for a small crafter that has one for sale online.
For a fun mom and baby costume idea, dress your little one up like a dragon to go with your royal outfit. One of the best ones we've seen attached fake flames to a pacifier. This costume is extra perfect if you have triplets.
Hot Legs USA has the best Halloween and Cosplay basics you can find. In every outfit, whether you are dressing for work, a night out, or to go all out, the foundation is the key to success. Whether you would like to add a dash of sex appeal to your look or you need basics to keep you comfy during a night of dancing and socializing, we have your go-to items here at Hot Legs USA.
Winter is coming. Pick up some layers and leggings here.

You Found the Ornament!
Enter HolidaySale2014 at Checkout to Receive 17% OFF Your Entire Order!