Alice in Wonderland Costume How-To Guide
Saturday, October 3, 2015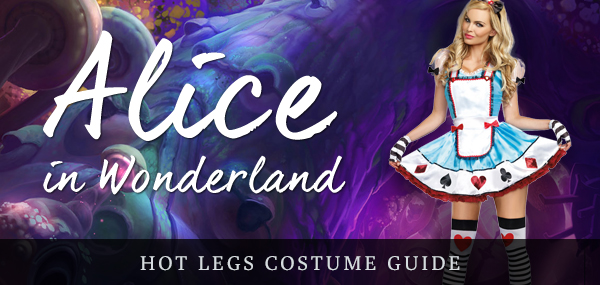 Alice in Wonderland Halloween Tights
Fall down the rabbit hole into high fashion with these fun costumes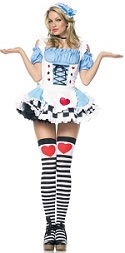 You'll be the Queen of Hearts with two flirty Alice costumes to choose from. Hot Legs USA is your one-stop shop for an Alice in Wonderland costume this Halloween.
How to Make an Alice in Wonderland Outfit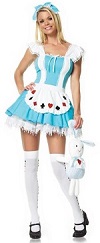 1. Hair. Keep your long blonde hair (either your own or an inexpensive wig) in place with the iconic Alice headband.
2. The dress. Hot Legs USA carries two full Alice in Wonderland dress costumes for your convenience, one naughty and one nice. The Alice Girl Costume is nice, including the apron dress, a blue bow to go with your Alice band, and printed stockings. It's your entire costume in one convenient package.
The naughty costume is the Miss Wonderland. The blue apron dress has a ruffled back for a delightfully flirty look and includes a matching blue headpiece. The short hem will show off your legs and make you the talk of any Halloween party in the best way.
3. Legwear. If you want to mix up your costume, try some specialty prints tights with playing card patterns.
4. Footwear. Don't be late! A pair of regular Mary Jane's in black are all you need to finish up your costume. If you're feeling flirty, a pair of platform heels will give you more height than a mysterious bottle saying "Drink Me".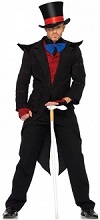 5. Makeup. This cosplayer has the easiest and most creative tutorial we've seen. Bonus points for the cute bunny.
For a couple's costume, get the Evil Mad Hatter costume for your very important date.
Or have a friend be the Queen of Hearts and try to cut off your head. There are plenty of possibilities for group costumes in Wonderland.

You Found the Ornament!
Enter HolidaySale2014 at Checkout to Receive 17% OFF Your Entire Order!