Wedding Day Hosiery Creates a Spectacular Finishing Touch!
Thursday, May 22, 2014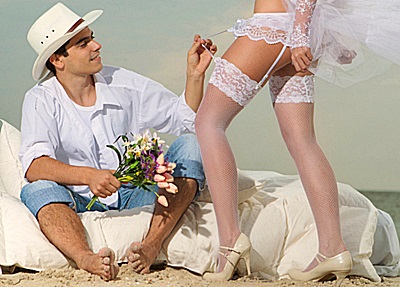 Wedding Thigh Highs to Bridal Pantyhose, Hot Legs USA Has Your Big Day Covered
When your big day arrives adorn yourself with beautiful bridal hosiery! Hot Legs USA has the perfect wedding stockings for you. With so many logistics to worry about on your big day, feeling like a gorgeous princess should be the easy part and we've got you covered! Choose from our luxurious selection of Leg Avenue thigh highs to find your perfect wedding pantyhose. Hot Legs USA understands that love is in the details, which is why we carry bridal stockings with beautiful embellishments like scrolling, feminine designs and glittering rhinestones. These elegant accents not only draw attention to your beautiful legs, they also draw the eye up, elongating the look of your legs!
Get ready for wedding season with gorgeous bridal hosiery from Hot Legs USA! Our collection of wedding lingerie, sexy thigh highs and show-stopping pantyhose paired with our incredibly low prices makes us the #1 online retailer for pantyhose and other gorgeous fashion legwear.
Wedding Thigh Highs with Gorgeous Embellishments

With scrolling lace, a silky smooth nylon texture and eye-catching rhinestone detailing, these bridal thigh highs are the ultimate in wedding hosiery! For the bride who wants to wow, these embellished white thigh highs are the perfect answer!
Wedding bells and ribbons adorn the sides of these Leg Avenue thigh highs and tiny sparkles dance down the side! The perfect combination of ultra-soft breathable nylon, pretty lace garters and dainty detailing is available for just $5.99 from Hot Legs USA!
Whether your dress is long or short, these wedding thigh highs are the quintessential finishing touch. These bridal stockings tie your look together and make your legs POP when your man pulls off the garter. It's also a great surprise for the beginning of the honeymoon! Plus, with the perfect amount of light support you'll be able to dance until the wee hours of the night!
Bridal Thigh Highs with Dainty Detailing and Serious Style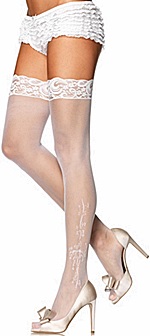 For the bride who wants a more subtle wedding style, these wedding thigh highs are the perfect choice! White nylon is graced by a delicate sprig of flowers on the side of the calf, providing the merest hint of feminine detailing. Lace garters grace these Leg Avenue thigh highs, giving them sexy elegance and undeniable style.
Made with 100% nylon, these Leg Avenue wedding thigh highs are of the highest quality! Their snug fit, pretty lace garters and dainty detailing all come together to make your special day the best it can be – with gorgeous legs to boot!
The way we see it, wedding hosiery should be comfortable and outstandingly beautiful! When you buy bridal hosiery from Hot Legs USA, you're purchasing an extra touch of luxury. Our bridal lingerie and wedding hosiery is designed to give you great comfort, and it's ALL uncommonly beautiful! Polish off your wedding glam with these wedding fab bridal thigh highs!
Shop Hot Legs USA today for the best wedding hosiery online. We never sell you cheap pantyhose or other fashion legwear, only high quality products at the very lowest prices.
If you are a bridal boutique, please contact our bridal pantyhose division to order any of our wedding hosiery in bulk.

You Found the Ornament!
Enter HolidaySale2014 at Checkout to Receive 17% OFF Your Entire Order!