Backseam Sparkle Tights for a Sexy Night Out!
Tuesday, April 15, 2014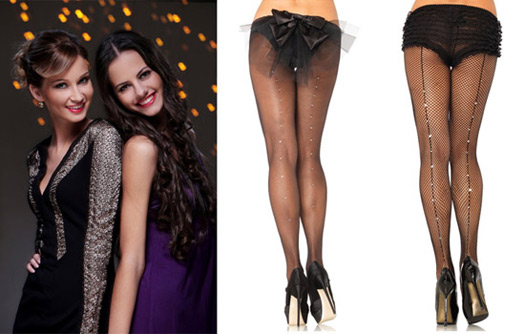 Fashion Tights with Rhinestone Backseam Add a Gorgeous Accent to Any Evening Wear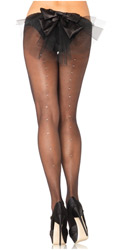 Sparkle tights are the perfect evening wear accessory. We're bringing you lots of ways to brighten up your evening wear in style – dresses and skirts are a lot more fun with a little sparkle!
One of our favorite things about these sparkle tights is the detail they add to an outfit. At Hot Legs USA, we think the classic black tights are perfectly acceptable, and sometimes they're the best fashion tights for the situation! But sometimes you need a little extra something. Enter Leg Avenue's sheer pantyhose with rhinestone backseam: These babies never disappoint!
Leg Avenue's high quality black tights have a thin line of gleaming rhinestones running down the back, adding a touch of sparkle to your ensemble! The spacing between the rhinestones draws the eye up and down the leg, elongating your line.
These fashion tights are absolutely perfect for a night out! Glam up your evening wear and take black tights to the next level! A few shimmering rhinestones with the right outfit can be exactly what a girl needs. That's right honey, accessorize!!!
Hot Legs USA is the premier online retailer for the hottest hosiery, including pantyhose, patterned tights, discount lingerie, even club wear! We always give you high quality, sexy fashion legwear and hosiery for way less than you'll find in stores or on the internet.
Fishnet Pantyhose with Rhinestone Backseam for Eye-Catching Fashion Flare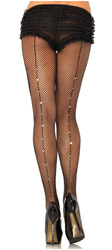 Up the glam factor to NIGHT LIFE. These sexy fishnets are the life of the party – with all kinds of glittery glam, they make a true fashion statement! When you wear these fishnets you get sultry allure right from the get-go! Your friends will flip when they see the rhinestones lighting up your backside! These fishnet pantyhose with rhinestone backseam are perfect for wearing with trendy cutout dresses and flouncy skirts!
Leg Avenue's quality fishnet tights are an awesome way to elongate your leg. Fishnets are always a great way to add another layer to your outfit, and these are no exception! Strut your stuff in style with a pair of these stunners, available for only $5.99 at Hot Legs USA!
These fashion tights help you put your best foot forward – the backseam is a throwback to glam 1920's style while the rhinestones bring this look into the 21st century.
Shop all our fashion legwear now and get the best for less!

You Found the Ornament!
Enter HolidaySale2014 at Checkout to Receive 17% OFF Your Entire Order!