WEAR PANTYHOSE WITH OPEN TOE SHOES? YES YOU CAN!
Tuesday, October 28, 2014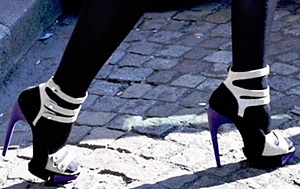 Pantyhose Fashion Rules Are More Like Suggestions These Days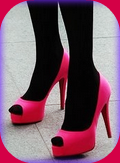 Remember the old fashion rules we were forced to abide by?
Don't mix metals when you wear jewelry. Don't wear white after Labor Day. Don't mix brown and black. These days, just about every woman is breaking those rules. Why not pantyhose with open toe shoes?
We do know "why not," of course. Sometimes it can look like you put pantyhose on, but didn't remember you were wearing open toe shoes. The key to looking good is to look like you're doing things deliberately by choice. So plunge right in. Be bold. Be confident. But whatever you do, don't wear nude pantyhose with open toe shoes.
Pantyhose Fashion Rules Demand More Color and Contrast
Nude and sheer pantyhose just don't cut it when wearing strappy sandals or open toe shoes. Why bother? If you are going to try to pass off your feet as bare, why not leave them bare? It's more realistic, breaks no rules and it's cheaper! Now if you want to make a statement, bold colors or opaque pantyhose are a much better way to go. If you're more conservative, remember black goes with anything, especially during winter.
Another good idea is to select a contrasting shoe. Don't be timid regarding style either. Pumps beat flats. There are plenty of open-toe pumps which work well – peep-toe, T-strap, ankle-strap. A bold contrasting shoe color (and even a contrasting texture) can make a big positive difference.
Pantyhose Fashion Rules Are Easy With Our Low Prices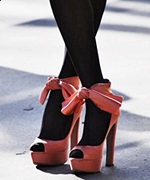 The key to it all is to be bold. Wear it like you mean it. It'll give you a killer look!
Of course, a big secret is to get the tights or pantyhose which are perfect for you. It's a little harder on a tight budget. Hot Legs USA is your perfect online source. Not only do we have the sizes and colors you need, but also a full selection of styles to match any ensemble – all with the lowest prices on the internet or in stores.
So have fun when you shop online. Then save money when you buy at Hot Legs USA!

You Found the Ornament!
Enter HolidaySale2014 at Checkout to Receive 17% OFF Your Entire Order!