Life Hacks for Pantyhose: Cleaning
Tuesday, December 30, 2014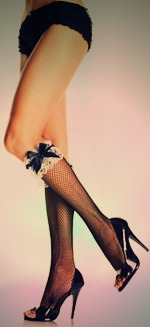 Part 1: Cleaning with Old Pantyhose
At Hot Legs USA, we only sell high quality pantyhose, tights and other hosiery from the most trusted brands in the industry. But…no matter how great the quality is, eventually fashion legwear meets its demise. Then what? Well, Hot Legs USA has a few life hacks for old pantyhose…
Keep Hairbrushes Hair-Free: Just put an old piece of pantyhose through the bristles. When you're finished brushing or when hair builds up, just pull off the pantyhose. Presto! Your hair is removed and your brush is completely clean!
Find Lost Jewelry or Other Small Items: Put pantyhose over the head of a vacuum; secure it with a rubber band or stretch it securely over the top so the vacuum cleaner doesn't suck it in. Then vacuum over an area of carpet or hard flooring. The vacuum will find and pick up the lost item, but the nylon will keep it from disappearing inside the dirty vacuum.
TIP: Great for finding earrings (and earring backs), safety pins, jewels, etc. One lady even found her lost diamond in a shag rug! This tactic is especially great on thicker carpet
Clean Hard to Reach Places (like under the stove!): Hate cleaning under your fridge or stove? You'll love this trick! Just attach old pantyhose to a straightened clothes hanger. Then work it under the appliance. Heavy dust sticks to nylons like you wouldn't believe!
Polish Almost Anything: Pantyhose material is soft and smooth, making it great for polishing a variety of household items, particularly lamps and fragile collectibles. Pantyhose are great for dusting and polishing hard to clean cracks and crevices. They're also great for cleaning items which are sensitive to cleaning products or scratch easily including gold, silver and brass.
See what we mean? There are tons of great uses for worn out pantyhose! So next time your pantyhose have outworn their welcome, just stash them with your cleaning supplies. There are plenty of great life hacks for pantyhose!
Stay tuned for more pantyhose life hacks from Hot Legs USA—the #1 discount fashion store online for pantyhose, tights, lingerie and other fine hosiery!

You Found the Ornament!
Enter HolidaySale2014 at Checkout to Receive 17% OFF Your Entire Order!