Capri Leggings: The Iconic Fashion Legwear for Street Style and Fitness Fashion
Thursday, April 24, 2014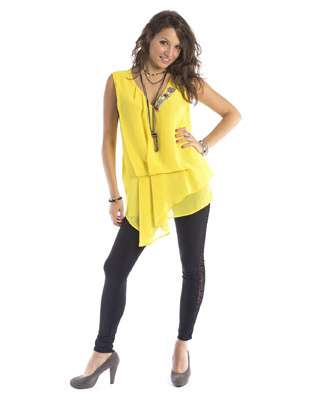 Capri Leggings: The Iconic Fashion Legwear for Street Style and Fitness Fashion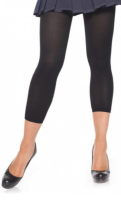 Hot Legs USA has tons of adorable leggings in stock for spring! All our leggings are crafted with quality and comfort in mind! Plus, our selection of leggings includes a few pretty details for your workout wear. Whether you need exercise leggings, comfy and cool yoga leggings, or if you just need the perfect pair of black capri leggings to add sleek chic to a casual outfit on the weekends, Hot Legs USA has you covered!
Black capri leggings are a classic pick. When you want something you can just throw on and go, let's face it –capri leggings never disappoint!
These high quality black capri leggings from Leg Avenue are only $3.99 at Hot Legs USA! Leg Avenue's superior fabric blend makes these capri leggings stretchy, sturdy, breathable and figure-flattering.
We love these black capri leggings with skirts and dresses, when you want something basic to complement a complicated pattern. This fashion legwear makes it super easy to throw on a pair of heels and go instantly chic! Fashion versatility and convenience come together in these capri leggings from Leg Avenue!
These Leg Avenue cropped leggings are also favored as gymnastics leggings and dance leggings Flip and twirl in confidence, knowing you're covered with a classic pair of black capri leggings. Remember, Hot Legs USA sells in bulk, so your whole team can experience the comfort and style of a perfect pair of cropped leggings!
Black Capri Leggings with Chic Snap Detailing and Figure-Flattering Support

These black capri leggings with snap detailing add a simple and sophisticated accent to your outfits! Our Leg Avenue cropped leggings are slightly thicker for stylish chilly weather wear. Plus, the light support fabric offers a slimming effect.
These cropped black leggings are perfect peeking out from under flouncy skirts and dresses; and they complement jean skirts amazingly well!
Of course these black capri leggings go great with cute, basic flats, but they're hot, hot, HOT when paired with heels!
Check out our other lines of fashion legwear for countless combinations of tights and pantyhose to suit your one-of-a-kind style and personality!
With so many colors, patterns and styles you can add a fresh spin to virtually every outfit you own just by switching up your legwear!
Hot Legs USA gives the absolute lowest prices you'll find online or in-stores! You don't have to break the bank to look like a million bucks anymore, just shop Hot Legs USA!

You Found the Ornament!
Enter HolidaySale2014 at Checkout to Receive 17% OFF Your Entire Order!