Jessie (Pokemon) Costume Tutorial
Tuesday, September 6, 2016
How to Make a Jessie Outfit
1.
Hair

Jessie's bright red 'do is iconic, so you definitely need to get it right for this cosplay. Red wigs are available for purchase on Amazon.com, but if you want to save money, feel ambitious and already have long hair, you can use a neon red Halloween hair paint on your hair and style accordingly. You'll need to tease most of your hair and use plenty of hairspray to achieve this radical style. Check out this How to Create Team Rocket Jessie Hair from Pokemon tutorial now.
2.
White Jacket with Black Crop Top

Jessie's Team Rocket uniform is infamous on the show, and it is very easy to recreate. All you need is a white cropped short-sleeved jacket (you can cut a regular jacket if you can't find a cropped one), and a pair of long black gloves. All of these items are available anywhere online or at your local resale shop. The capital red "R" on the Team Rocket jacket can be drawn, sewn, taped or painted on, and for the black crop top visible underneath Jessie's jacket, you can use the Hot Legs USA black Cobblestones Activewear sports bra.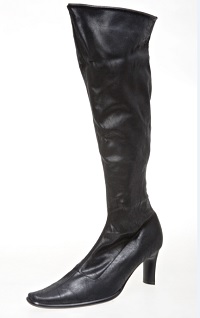 Jessie finally finishes off her look with black thigh high boots. If you cannot find thigh high boots, though, knee high boots would work just as fine!

3.
White Miniskirt

Pair your Team Rocket jacket with a rockin' white miniskirt. If you're worried the skirt is a little too short, wear some Spandex underneath.
4.
Stockings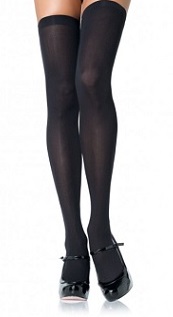 Jessie (Pokemon) Black Thigh Highs
You'll need something to wear underneath those rockin' boots, and our Leg Avenue over the knee thigh highs are absolutely perfect for that. They are effortlessly beautiful, durable, comfortable and will definitely complete this Jessie from Pokemon cosplay.
Now that your Jessie from Pokémon look is finally complete go out and represent Team Rocket in this awesome costume, whether it's for a convention or a fun Halloween party Hot Legs USA has got you covered. Be sure to check out our Cosplay Guide for other cosplay ideas.

You Found the Ornament!
Enter HolidaySale2014 at Checkout to Receive 17% OFF Your Entire Order!