Fashion Tights for Spring!
Tuesday, March 18, 2014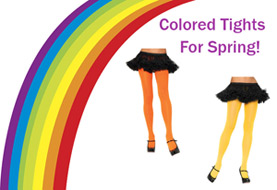 Colored Tights Add Vibrant Pops of Color to Any Outfit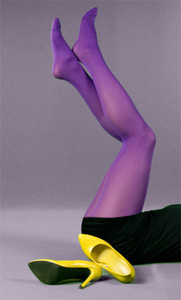 Hot Legs USA is absolutely in love with colored tights this season! The perfect pretty flash of color adds so much to spring outfits. We have something for everyone, with all the colors of the rainbow in our arsenal of tights – these gorgeous colors light up your legs! Plus we have these fashion tights in all kinds of styles, from pantyhose to thigh highs. We adore them and we know you will too!
Spring means color, and we have all kinds of goodies to make your hot legs POP! These fashion tights are a staple for spring! They come in so many fun colors like blue, pink, yellow, green, red and orange--all making an appearance in the lineup!
Leg Avenue tights are the perfect pop of color for legwear fashionistas. Leg Avenue makes really pretty, really durable tights. For $3.99, these colored tights are all yours! And the colors provided by Leg Avenue are out of this world – the vibrant colors light up your closet!
Lately we've been wearing these colored tights under legwarmers and boots to add a long-awaited burst of color to our winter outfits. We love a hearty wool sweater and a pair of pants as much as the next girl, but it's time to break out the cute, springy dresses we love so much!
We also love to wear these pretty pantyhose with heels. You can take these colored tights to a new level when you wear colored shoes with them!
Since these fashion tights are an absolute steal at $3.99, why stop at one? Get your favorites and go light up the night!

You Found the Ornament!
Enter HolidaySale2014 at Checkout to Receive 17% OFF Your Entire Order!