Elesa (Pokemon) Costume Tutorial
Tuesday, September 6, 2016
How to Make an Elesa Outfit
1.
Hair

Like many Pokémon trainers, Elesa has a very specific hairstyle and headpiece – her hair is bright, neon-yellow and is worn with a pixie cut. You can shop online or at any wig store to find the right hair.
2.
Red and Blue Headphones

Elesa's headphones are red, white, and blue with long black tubes coming from the ends. They are available to purchase at cosplayfu.com, but if you are particularly crafty, you can just use a pair of your own headphones and design them to look like Elesa's.
3.
Yellow Shirt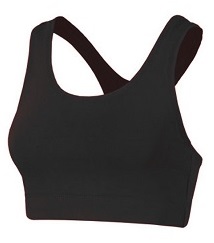 Along with her black tights, Elesa wears a yellow tank top which is open at the front and black horizontal bands running across her chest and torso. This part of the costume may seem difficult, but it doesn't have to be – simply find a bright yellow tank top and cut it down the front so it makes a deep V. Then, either glue or sew black pieces of cloth horizontally across the open section of the shirt. This costume can get to be pretty revealing, so if you are in need of some extra support, wear the black Cobblestones Activewear sports bra under your tank top. It will blend into the rest of the costume, as well as provide extra comfort for those long days of cosplaying.

4.
Black Tights

Black tights are a necessity when rocking the Elesa costume. The black opaque nylon tights from Hot Legs USA are the perfect addition to this cosplay – their versatility and thickness definitely make them ideal for any costume.
5.
Yellow Shoes

Elesa finishes off her look by wearing bright yellow Mary Jane heels. You can find her shoes on eBay, Amazon, or any other online shoe retailer.
Elesa (Pokemon) Nylon Tights
Congratulations, you have made your official Elesa Gym Leader costume! You can now catch 'em all while cosplaying as this super fashionable gym leader from Nimbasa City. With the
help of Hot Legs USA, you will definitely turn out to be a true Pokémon master!

You Found the Ornament!
Enter HolidaySale2014 at Checkout to Receive 17% OFF Your Entire Order!